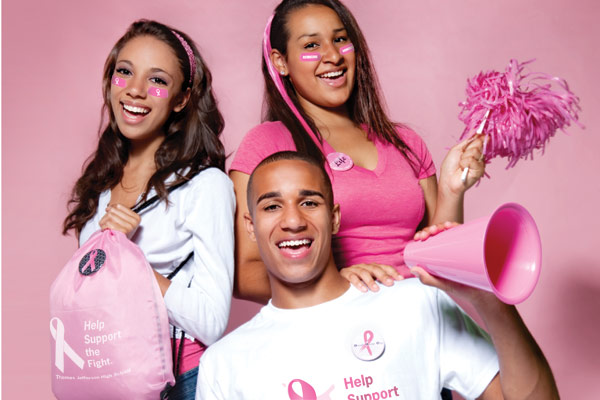 A school Pink Out or other cause awareness event at your high school can inspire your students to make a difference and raise awareness for special causes. A cause event is a great way to keep students connected, engaged and thinking globally. Cause events are also great school fundraisers when you invite the entire community.
Choose your school cause event!
Have a school pink out, or choose another cause and color. Pick one that is important to your school and that will inspire students, staff and community members to get involved. Hand out cause ribbons to everyone who participates.
Special Cause Ribbon Colors Black………………………………………………………… 9/11
Blue………………………… Addiction, bullying, child abuse
Burgundy…………………………………………… Disabilities
Gray………………………………………….. Asthma, diabetes
Green……………. Environmental protection, kidney cancer
Orange……………………………………….. ADHD, leukemia
Purple……………………………. Alzheimer's disease, cancer
Red…………………………………….. AIDS, substance abuse
Teal…………………………….. Lyme disease, ovarian cancer
White………………………………….. Violence against women
Yellow.…………………. Soldier support, suicide prevention
Ideas for a successful cause fundraiser
• Organize a cause event carnival with all proceeds going to the cause!
• Get your Booster Club involved with cause fundraising efforts:
• Sell imprinted apparel and accessories that match your cause color
• Sell paper chain links and create a massive chain to support the cause
• Donate concession stand profits to the cause!
• Deck your school out with cause colors decorations, like gossamer and streamers!
• Use fence decorations to make a big statement for the cause!
• Sell imprinted t-shirts in your school store to support cause awareness!