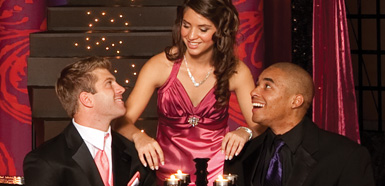 Whether you have a Senior Dinner, Senior Banquet or Baccalaureate, it is a special evening for your Graduating Seniors. Making it memorable and staying on budget is sometimes a challenge. Here are a few tips to help you get started.
1. Set your budget. Big or small, you'll need to know what it is and work within it.
2. Choose your location. Although your first instinct may be to hold the event at a banquet hall or restaurant, you should consider holding it at school. You'll save a ton of money and have a little extra for fabulous decorations and themes. You can transform your gym, cafeteria or even library into a beautiful venue, and make the kids feel like royalty, while keeping the event on their home turf.
3. Organize the details.
Decorations: Decide on a theme, color scheme and floor plan. Depending on your location, you may need more or less decorations. Consider balloons, centerpieces, decorations, and tablecovers.
Dinner. Will you have it catered in, cooked by volunteers, or hold your event at a facility that serves the meal.
Awards & Recognition. Celebrating and acknowledging their accomplishments is really what this night is all about. Try to celebrate all the students, not just the all-stars. Create new awards to include those kids that normally don't get an award, such as "The Inspiration Award" "Helping Hands Award" or "Artistic Accomplishments". Get creative and come up with others. Ask teachers and staff to nominate recipients.
Entertainment and Speakers. Choose talented students in lower grades, or a Junior band and choir to perform. A teacher, coach, or other mentor within the school would make a great speaker. Pick someone that the kids connect with and will deliver an inspirational and motivational message.
However you choose to honor your Seniors, make it all about them. Don't get too wrapped up in the details, but remember this is one of the final events of their High School Career. The memories you help them make will last a lifetime. Shop Prom Nite for all your senior banquet needs.