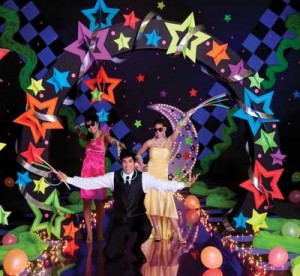 As the grand finale of the season, Homecoming and Prom are some of the biggest high school memory makers, so it's important to give your teens the time of their lives with the perfect theme. Here are a few fun ideas for Homecoming and Prom themes to make the memories last forever:
1) Experience the magic of an ENCHANTED THEME!
While traditional Cinderella fairy tale themes are still beautiful and romantic choices, themes with fun twists on old classics–like bright, bold colors and individual turret towers–make it easy to customize a modern fairy tale that perfectly fits your teens' style.
2) Light up the night with a GLOW THEME!
If your teens are all about fun, a glow theme is the way to go.  Choose a funky neon theme and hand out glow favors—like necklaces, sunglasses and glow sticks—to keep the party going all night long!
3) Keep it sweet with a CANDY THEME!
Even big kids love candy! Hit your teens' sweet spots with a colorful candy Homecoming theme. Make it a night of indulgent delights with sweet activities, food and decorations: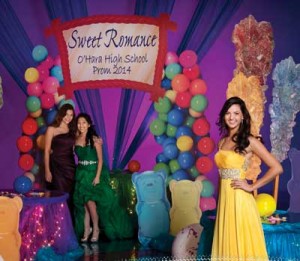 • Put candy-inspired board games at each table!       
• Have a cotton candy machine or candy buffet!
• Decorate with candy-colored balloons!
• Hand out full-color lollipops or favors with a candy background!
4) Go wild with an ANIMAL THEME!
Whether you choose a jungle, safari, circus, or even an underwater theme, anything involving animals is sure to be a hit with your teens. Decorate with animal print balloons, play animal-themed songs (think The Lion Sleeps Tonight and Welcome to the Jungle) and hand out favors with animal print backgrounds. Your teens will have a wild time!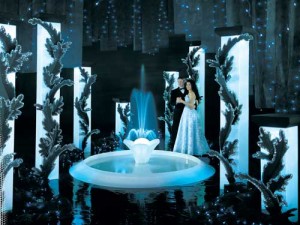 5) Feel the romance of a GARDEN THEME!
Looking for romantic Homecoming or Prom themes? Garden themes are classic, beautiful and very versatile. Start with a wire arch, fountain or gazebo as the focal point. Then, mix and match elements, like trees, benches, columns and more to create your ideal serene scene. Add stars to make your garden even more romantic or a background castle to turn it into an enchanted garden.
6) Dance the night away with a BALLROOM THEME!
Today's ballroom themes are nothing like the ones from the past. These days, almost anything goes. Make it formal with majestic columns and a stunning staircase or laid back with fun lighting and colorful decorations. Match your teens' style to create a ballroom theme just for them.
Homecoming and Prom are all about the memories. Make them last forever. Shop all our Homecoming and Prom themes to find the perfect one for your school!
Check out our online freebies section for guides and checklists for planning, including our Homecoming Planner.