Are you thinking about decorating the windows in your school or car for Homecoming, spirit week or the "big" game? Don't have any window chalk? We have a great solution for you! Homemade window chalk! It's easy, fun and gives you control of the colors you end up with.
Materials:
Cups or containers to mix the different colors in
Sidewalk Chalk
A mortar and pestle, a mallet or hammer
Dish soap (without bleach or other additives)
Stir sticks or plastic spoons
Optional tempera paints or food coloring for more vibrant colors
Instructions:
1. Start with a cup or bowl for each color. Grind each color of sidewalk chalk separately in the mortar & pestle or in a plastic bag with a mallet or hammer. You'll want to achieve a thin dust. (You can also use plain white chalk and add all your own coloring.)
2. Put one color in each cup and add dish soap, two times as much as the chalk (for example: if you have ½ cup of chalk dust, add 1 cup of dish soap). For more vibrant colors add additional color with tempera paints or food coloring.
3. Stir the mixture until it is an even consistency. The chalk paint should be the same consistency as wall paint. Add more detergent for a thinner, more transparent paint, or less for a thicker more opaque paint.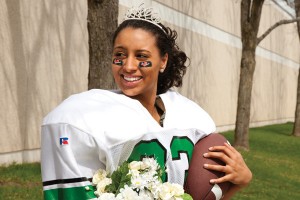 Now you're ready to paint windows! Go all out and add decorations to your car with metallic streamers, styrofoam letters or festooning. Your school spirit will get noticed wherever you go!
When the celebrating is over, use plain water to wash the paint off the windows.
You can also buy window chalk or paint kits from Prom Nite if you don't have time to make it yourself.