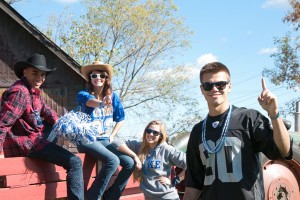 Spirit Week is one of the most memorable parts of Homecoming. It's the time to pump up school spirit, show team pride and get students and staff engaged and involved in school activities. Spirit Week traditions vary from school to school. Most involve theme dress up days and a pep rally, but there are so many more options. Check out these fun and unique Spirit Week ideas for your school:
1. Hallway Decorating Contest!
Assign each class a hallway. Provide decorations (background paper, fabric, poster paints, markers and  more) and let each class decorate its hallway for Homecoming. Give prizes for most original, most spirit-oriented, most colorful, and more.
2. Spirit Week Scavenger Hunt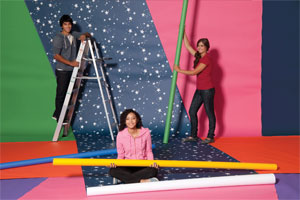 Hide Homecoming-related items inside the school and on the grounds. Organize students into teams and give each team a list of the hidden items. The goal: Find as many of the items as possible within a certain amount of time. Award prizes to the winning team and to everyone who participates.
3. Lunchtime Fun
Organize fun activities over the lunch period to keep students full of school spirit:
Karaoke contest (don't forget to include your school song in the mix)
Create-your-own T-shirts (provide markers, paints, sequins and more)
Create-your-own Spirit Week banner (get paper and paint kits for the kids)
4. Powderpuff Football Game 
Get the entire student body pumped up for Homecoming with a powderpuff game, where the girls play football and the guys dress as cheerleaders to support them. Schedule an after-school powderpuff game and encourage all students to participate, either as players, cheerleaders or spectators.
5. Get Teachers and Staff in on the Action
Teachers and staff have just as much school spirit as students do, but they don't often get to show it. Encourage staff to participate in Spirit Week theme days with students, and also have special activities just for them:
6. Make Homecoming a Community Affair
Get the entire community involved in supporting your school by organizing fun community activities during Spirit Week and the fall season. Try a bonfire, carnival, Fall Festival or chili cook-off to get everyone in the Homecoming spirit.
Get more Spirit Week ideas. Download our Spirit Week Activity Checklist (PDF) now!
Check out our School Spirit merchandise and shop now.
What are your school's Spirit Week traditions?