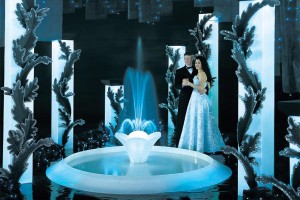 Once Homecoming is over, it's time to start thinking about winter. Whether your school puts on a fun Winterfest celebration or has a formal Winter Ball, you'll need the perfect theme to get everyone in the spirit of the season. Check out these fun and unique winter theme, decoration and favor ideas for your school:
Keep it Cool With An Icy Blue Theme
If your students love winter, embrace it with a theme featuring icy tones of blue, silver and white. Encourage attendees to dress in similar color tones and decorate with all the silver, sparkles, and snowflakes you can find.       
          With its soft colors, blue lights and sparkling glitter accents, this theme embodies the spirit of         winter but also has that beautiful glow of romance, which makes it the perfect winter theme.
           Decorations: silver glitter, light blue balloons, and snowflake gossamer
          Favors: mini dessert glasses filled with ice cream
          This theme is all about iridescence, like the reflection of freshly fallen snow. It's the perfect    casual theme for your Winterfest celebration.
          Decorations: iridescent glitter on tables, white balloons with iridescent balloon weights as    centerpieces, and holographic streamers
          Favors: light up glassware
Get your glitter on! Featuring tons of silver glitter, this theme is the perfect way to celebrate the sparkle of the winter season.
          Decorations: metallic silver balloons, glitter tulle, and 2014 confetti
          Favors: glitter frames and tumblers with glitter inserts
Warm it up With A Hot Red Theme
If snow and ice are not your school's style, you can still have fun during the winter season with a red or pink-toned theme to get everyone looking forward to the warmer days ahead:       
          Bring a rosy, warm ambience to your event with this pretty pink theme. Its trendy colors and          beautiful curves make it the perfect mixture of fun and romance.
          Decorations: a pearl pink/fashion fuchsia balloon arch at entrance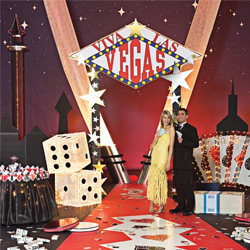 Favors: pink glow necklaces/bracelets and fuchsia tumblers
The reds have it in this fun destination theme, designed to keep everyone's mind off the dreary days of winter.
          Decorations: Party Aces confetti and black and red balloons
          Favors: red/black two-toned sunglasses
          Fiery tones of red, pink, orange and yellow make this theme as far from winter as possible!
          Decorations: neon balloons and matching Print Magic centerpieces
          Favors: Print Magic frames and lanyards
Start looking for your winter theme now. Shop themes.