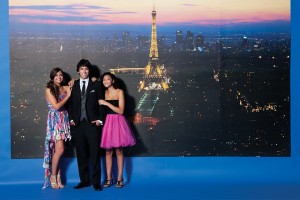 Decorations can make or break your Homecoming dance or Prom. Forget about floating balloons and crepe streamers—the standard decorations of the past. It's time to take decorating for the dance to a whole new level. Check out these fun and Homecoming and Prom decorations ideas for your school:
1.    Wonderful Wire Structures
Wire structures are easy, effective and affordable ways to add a ton of interest and pizazz to your dance space. You can choose a large wire structure, like a gazebo or garden gate, and plan the rest of your décor around it, or opt for a smaller piece, like a lamppost, to complement a larger theme. Most wire structures come with built-in lights, and you can decorate them with gossamer, garland, or anything you want, to match your theme and colors. 
2.    Mood Lighting
When it comes to setting the tone for your dance, the right lighting makes all the difference. Going formal? Wrap mini lights around columns or accent pathways or tables for a warm, romantic glow. Is your theme casual and fun? Try lighted columns or special effects lighting for your dance floor.
Whether you have purchased a complete dance theme or are creating your own, theme accent pieces are the perfect way to enhance your dance space. These large props come in all shapes and sizes to make it easy to create the exact look you want. Try some of these theme separate ideas to make your dance space extraordinary:
4.     Fabulous Fabric Decorations

Fabric is the new crepe. As the go-to decoration for a new generation, it is a quick and easy way to take any space from ordinary to AWESOME! There are so many ways to decorate your venue using fabric:
          • Drape from the ceiling to create a sky or undersea look
          • Dress up tables and chairs
          • Bunch on floor to create river or pathway
          • Wrap around columns or arches to create a stunning entrance
          • Hang from walls to create the perfect backdrop for photos
Get more decorating ideas from Prom Nite. Shop Prom decorations now. 
Let us help with your Prom planning. Check out our online freebies including our Prom planner, checklists and more.
What are some of your favorite school dance decorations?