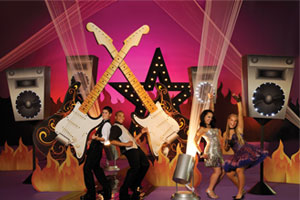 Prom 2014 will be here before you know it. Part of the fun of organizing and planning Prom is choosing a theme that's perfect for your school and gets students excited for their big night. We've put together 10 Prom themes that are trending now to make choosing a Prom theme even easier. 
1. Gatsby Prom. The 1920s are HUGE right now. You can have lots of fun with black and white decorations, flapper style dresses, bow tie favors, and much more.
2. Mustache mania. Mustaches are so trendy, take them a step further and create a Prom theme around them.
3. Fairytales. This is a tried and true Prom theme, but you can give it your own twist. Choose an enchanting fairytale theme, add some clocks and playing cards, and you will have an Alice In Wonderland theme!
4. Arabian. With the popularity of a certain Bravo show, Arabian themes have become trendy. There are a lot of fun ideas you can play with, like jewel tones, palaces, flying carpets, jewels, genie lamps, and more.
5. The 1980s. Yes, this decade is back in vogue. Teens love the colors, music, and everything else '80s. Mix neon colors with lots of black and white. Other ideas for a 1980s Prom theme are Miami Vice, MTV, or an '80s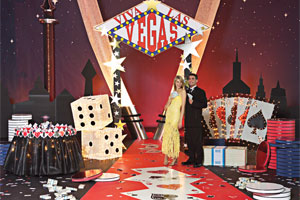 rock-n-roll theme. 
6. Candy. Prom themes that are based on candy are another popular idea. Instead of following the popular board game, give your sweet Prom night a Willy Wonka twist.
7. Masquerade. This trendy Prom idea is much more versatile than you think. Stick with purple, gold, and green for a Mardi Gras masquerade, or try a Phantom-style Prom. Or go with red, gold, and black and top hats for a magic masquerade.
8. Under the sea. Due the re-release of The Little Mermaid, this a popular idea, again. Take your underwater decorations in one these directions: mermaids, Titanic, pirate ship, or a coral reef with aquatic animals.
9. Casino night. This is another Prom theme that's been popular for many years. Instead of doing a typical Vegas Prom, try an Atlantic City boardwalk theme, or Monte Carlo/James Bond night, or a Reno "The World's Biggest Little City" casino theme.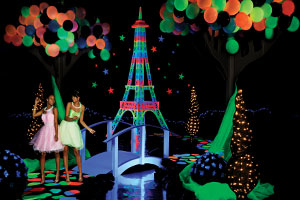 10. Paris. A classic Prom theme is one idea that never goes out of style. Add a red carpet for a Paris movie premiere Prom night, create a Parisian park, make it a glow party, or give it a vintage twist with a hot air balloon decorations for your Paris prom. 
Search our Prom Themes to find a theme that's right for you.
Get ready for Prom by downloading our complete Prom Planner now. A must-have for Prom advisors and committee members.