Planning your school's perfect Prom is a big job, but it doesn't have to be hard. With the right tools, planning Prom can be easy and fun. At Prom Nite, we offer some great Prom planning resources that help take the stress out of getting ready for Prom.
When it comes to Prom planning, this is where it all starts. With timelines, checklists, ideas, schedules, a budget guide, and more, our Prom Planner is the perfect resource for your Prom Committee as you go through the planning process. Print out several copies and bring them to the first committee meeting. You'll find yourselves referring back to this guide over and over again.
A checklist is essential to keep everyone organized and everything running smoothly. Our Prom Planning checklist includes tons of ideas for decorations, favors, and more for both Prom and After-Prom. Use this list as a jumping off point, and customize with your own ideas to meet your needs. Be sure everyone on the Prom Committee has a copy to refer to when needed.
Need fundraising ideas and tips? Check out our Fundraising Guide for the scoop on quick and easy fundraising for Prom and other events throughout the year. It even includes a handy budget sheet and school year calendar to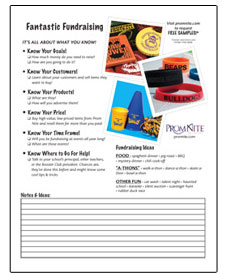 help keep your fundraising goals on track.
Prom Songs & Color Tips
This handy Prom Songs and Color Tips guide will help you choose the perfect elements to complement your Prom theme. With more than 60 themes listed, you are sure to get great ideas to match your theme and create the perfect mood for your Prom.
Prom Planning For BFFs
Our Prom Planning For BFFs is designed especially for girls. It's filled with everything girls need to plan for the big day, from tips on choosing a dress, Prom survival kit ideas, a Prom timeline, and more. Make sure every girl on your Prom Committee has one of these guides and is sharing it with her friends.
Email Tips and Hot Deals
We email out tips, ideas and hot deals to our email subscribers throughout the year. Our goal is to help make Prom planning as easy as possible. Plus, our email sign-up is easy and free. Sign up here.
First Time Prom Advisor?
Being a Prom Advisor for the first time can be daunting, but don't worry. We are here to help. Whether you need advice on choosing a theme, finding the perfect favor, or deciding on the right decorations, our expert event planners are just a phone call away. Give us a call at 1-800-328-5393.
Need more ideas?
Check out this fun website for even more great ideas on how to make your Prom a success:
http://www.thepromorganiser.co.uk/get-help-with-your-prom/
Shop Prom Nite for all your Prom needs now.