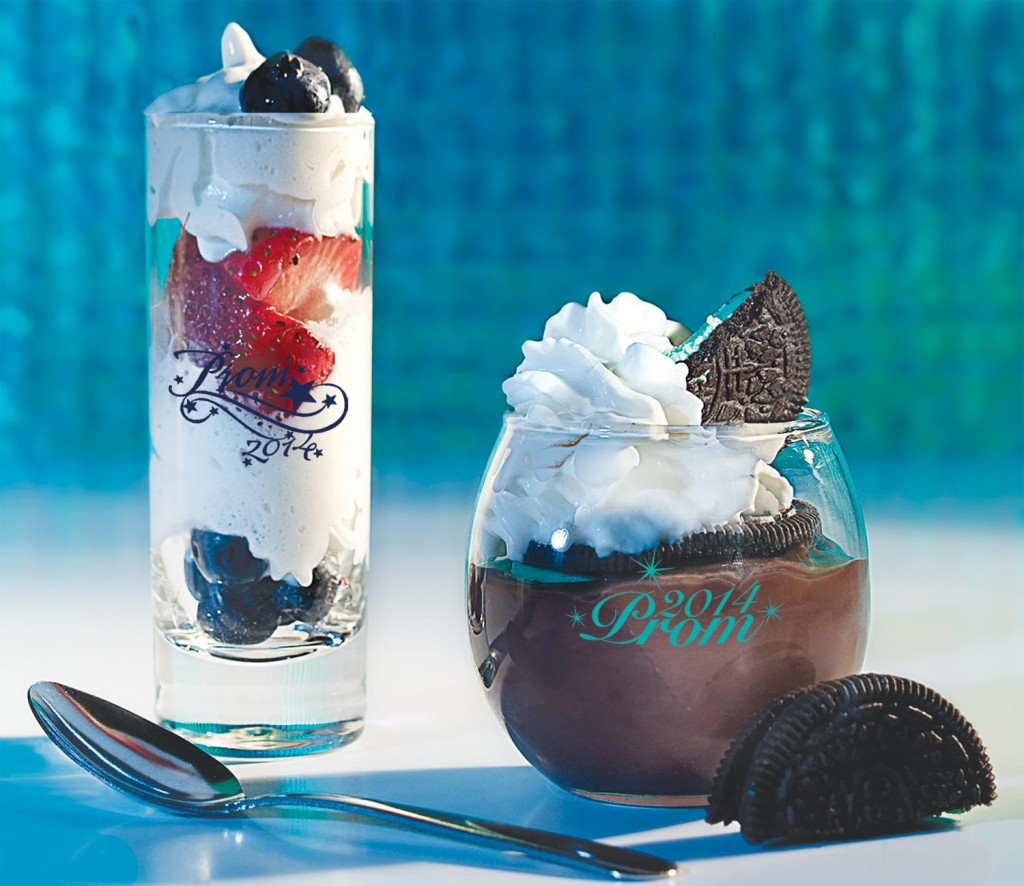 Have you caught the Mini Desserts craze yet? These adorable little sweet shooters are all the rage. From dances & weddings, reunions & corporate events to Prom! Event planners are finding that they are the perfect answer to dessert; sweet, delectable, amazing little bites of heaven. They offer that little sweet something that guests crave, and are easy on the budget, with a built in favor!
These adorable Mini Dessert Glasses can be imprinted with your event theme, school name, mascot or logo. Then choose a few recipes and serve amazing bite size delectables that will look like they came from a 5 star gourmet restaurant! Afterall, who wouldn't love a Prom favor filled with chocolate, fruit, and whipped cream?
We've compiled a few amazing recipes to serve in these Mini Glassware. Choose one, two ar all of them and give your guests a choice!
*Note – Each of the mini dessert recipes below makes 12 servings. Multiply the ingredients to make the number of servings you'll need for your event.
Dark Chocolate Cookie Mousse
8 squares (or 8 oz.) bittersweet chocolate
16 oz. whipped topping
about 24 chocolate sandwich cookies
additional whipped cream or whipped topping for garnish
(this dessert is shown above in the Cane Dessert Glass)
Melt the chocolate in a microwave safe bowl for 1 minute. Stir well and continue to cook for 20 seconds at a time, stirring after each 20-second interval until the chocolate is completely melted. Stir in 1 cup of the whipped topping to "temper" the chocolate, then fold in the remaining whipped topping.
Crush half of the cookies in a food processor, or use a large plastic ziptop bag and a rolling pin.
Sprinkle a teaspoon of the crumbs into the bottom of each glass, then top with a dollop of the mousse. Garnish with a swirl of whipped cream and a whole cookie.
Heavenly Berries & Cream Dessert
This simple dessert will blow them away!
1 cup mascarpone cheese
1 cup heavy whipping cream
1/2 cup sugar
1 tsp vanilla
fresh berries of your choice, strawberries, blue berries, black berries, raspberries.
(This dessert is shown above in the Coco Dessert Glass).
Mix mascarpone and sugar until smooth and creamy. In a separate bowl whip heavy cream with vanilla. Fold the two mixtures together.
Wash berries and hull strawberries. Cut large berries into small pieces.
Layer berries and cream in glasses ending with cream on top. Garnish with one small berry.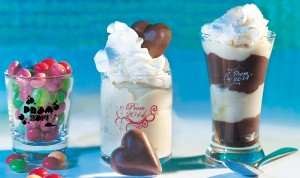 Black & White Parfait
1 5.1 oz. package instant chocolate pudding mix
1 5.1 oz package instant white chocolate or coconut cream flavored pudding mix.
1/2 cup strong brewed coffee or espresso, cooled
1/2 tsp almond extract
4 1/2 cups cold milk
16 oz whipped topping
(This dessert is shown in the Graham Dessert Glass)
Prepare chocolate pudding, beat with 2 cups milk and 1/2 cup cooled coffee or espresso. Chill to set. Prepare white pudding, mix with 2 1/2 cups cold milk and almond extract. Gently fold 1 1/2 cups of whipped topping into each flavor. Drop 1-2 teaspoons of chocolate on the bottom of each glass, then white, repeat layers and garnish with a dollop of whipped topping. Garnish with a chocolate dipped coffee bean and/or sprinkle of toasted coconut .
Banana Bomb Mini Desserts
1 cup graham cracker crumbs
3 Tablespoons butter
2 Tablespoons sugar
Mix together and divide among the dishes. Press down lightly.
1 large box instant vanilla or banana pudding.
Cold milk
5-6 bananas sliced
1 container whipped topping
(This dessert is shown to the upper right in the Ambrosia Dessert Glass).
Mix cracker crumbs, melted butter and sugar in a mixing bowl. Divide the crumb mixture equally between the 12 dishes., press down firmly in the bottom of each dish.
Place 5 slices of banana in the bottom of each dish. Prepare the pudding as directed on the box. Divide equally among the dishes, covering the bananas with pudding. Chill until set, at least one hour. Top with whipped topping and serve. Optional garnishes, a slice of banana or a chocolate candy.
There are many other things you can do to dress up glassware for Prom. Check out our Decorate it Yourself Glassware page full of fun ideas. 
Shop glassware now.