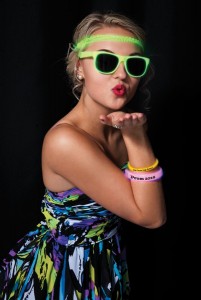 Get your glow on with fun glow party ideas. Using a glow theme is a fun way to get kids engaged in your party – from Homecoming to Prom, or any dance in between. Glow is especially great for Senior All Night Parties.
Here are some fun glow party ideas:
1. Theme – use a complete glow theme to make your event space amazing. Choose a theme with LED lights, columns, floors and fabric with neon colors. Make sure to set your theme up in a dark event space so the neon colors will really pop. Be sure to use black paper or polyvinyl to cover up bright walls, doors or windows.
2. Blacklight – shine black lights on your neon decorations to really make them glow. Kids will have a ton of fun with the blacklight and it will really take your event to the next level. Plus, you can reuse blacklights for other events or for theatre productions.
3. Favors – Hand out glow sticks, necklaces, bracelets, beads and sunglasses as kids come in. They'll love wearing them and it will really get them engaged in the dance. These inexpensive favors are a great way to get kids engaged in the event.
4. Paint – get glow paint and paint banners, balloons, murals, floor paper or wall décor with the paint.
5.  Dress the part – tell kids to wear white or neon colors that will really pop with in the backlight
6. Centerpieces – use glow sticks or purchase glow centerpieces.
7. Photo frames – take photos at the event and give out glow photo frames as favors.
Click on the video below to see these glow party ideas and more in action.
br>