Are you a first time Prom Advisor tasked with planning Prom coronation and aren't sure where to begin? The answer is simple: start with the basics and work from there, adding your own twists along the way to design your perfect Prom coronation. Take a look at these answers to some of the most common Prom planning questions to get you started.
WHO makes up the Prom Royal Court?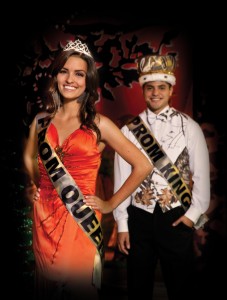 Traditionally, there is a Prom Queen, a Prom King, and a court.  You can leave it at that, or you could shake things up a bit by choosing specific court members like Prince, Princess, Attendant, Duke, Duchess, and even a Jester. Use custom sashes to designate each person's role.
WHAT should Prom royalty wear?
If you want to follow tradition, you'll need crowns, robes, and scepters for the King and Queen, tiaras and crowns for the court, and sashes for all. For a more casual look, dress the guys in light-up fedoras, and put everyone in custom Prom Royalty t-shirts. For a twist, have your royalty wear fun accessories that match your theme, like mustaches, masks, leis, or glow necklaces.
WHEN should we do what?

Three weeks before Prom: Start advertising for royalty nominations. Put ballot boxes in high traffic areas to collect nominations
Two weeks before Prom: Count votes and announce nominations
The week before Prom: Have the entire student body vote for Prom King and Queen
WHERE should the winners be announced?
There are many options for announcing and presenting your Prom Royalty:
Announce them at Prom
Have a special ceremony during the school day for students
Have an evening ceremony for entire community
Announce them at the Grand March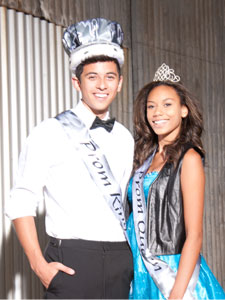 WHY should we have Prom royalty?

Tradition. You just can't have Prom without Prom royalty
Student engagement. Electing Prom royalty keeps everyone involved
Memories. Your Prom royalty will remember coronation for a lifetime
HOW should we present our Prom royalty?
The sky's the limited when it comes to presenting your royalty. Here are a few ideas:
Roll out a red carpet and have them walk out in Hollywood style
Have them do a skit or a dance based on your Prom theme
Have them parade in singing your school song
Remember, Prom coronation can be whatever you want it to be. Whether you're going traditional or trendy, formal or casual, it's all about your school, your teens, and your style. So make it your own. Happy planning.
 How does your school do Prom coronation? Share with us.