Time is precious, especially when it comes to decorating for Prom. You need quick and easy ways to create the perfect look without taking up a ton of time (or your Prom budget). Try decorating with fabric. It's a great way to give you maximum style with minimum time and effort. Check out these great ideas on using fun fabrics to enhance your Prom decorations.
1) Create stunning ceiling effects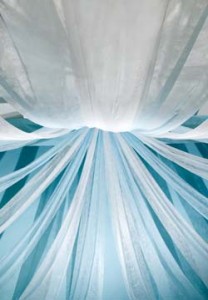 If your Prom is being held at school or at an off-site venue with a lackluster ceiling, creating your own stunning ceiling décor may be just what you need to take Prom from boring to BEAUTIFUL. You can use fabric in so many ways on a ceiling: hang it, drape it, bunch it, swoop it, or stretch it. Use your imagination to create any effect you want. Try magnet movers to make decorating your ceiling a snap.
2) Wrap columns and doorways
Don't know what to do with ordinary doorways or columns? Wrap them with fabric to add an instant boost to any Prom décor. Add mini lights, garland, cut outs, feather boas, or anything you want to enhance the look.
3) Make a pathway
A pathway can be a great focal point for any Prom theme, and it's easy to create one using fabric. Bunch gossamer along the floor in the shape of a pathway. Then, add mini lights, confetti, background paper, or faux stones to create the perfect pathway.
4) Enhance your Prom theme
Need a little something extra in your theme, but don't have a lot extra in your budget to buy more kits or props? You can create a variety of scenes using inexpensive fabric: ocean waves, rolling green hills, sandy beaches, or snow banks, just to name a few. Just bunch up or stretch out fabric to get the look you want.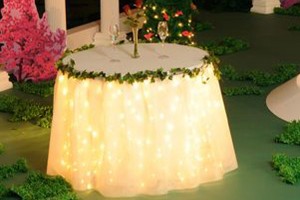 5) Dress up tables and chairs
Turn your tables and chairs into part of your theme by adding fun fabric accents. Cover tables with shiny satin fabric, paisley fabric or gossamer. Let fabric hang to floor and add mini lights to create a cool table skirt.
When you don't have the time, money or talent to go all out for Prom decorating, try using fabric to create the perfect look.
How do you use fabric for decorating? Share with us.