When you're decorating for Prom, don't overlook the ceiling. With a few simple touches, you can turn your ceiling into part of your theme. Here are 10 fun ceiling decorating ideas to try.
1) Paper Lanterns or Tissue Balls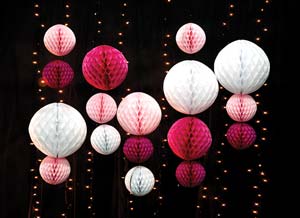 Add drama to your space by covering the ceiling with paper lanterns or tissue balls. You can get them in a variety of colors to match your theme.
2) Fabric
There are tons of ways to use fabric as ceiling décor. Hang it in sheets or strips swoop it from one end of the room to the other, or drape it from ceiling structures.
3) Mini Lights
Boring ceilings? Stings of mini lights, hung at specific intervals, can make a big difference. Choose clear mini lights, colored lights, or a combination of both to get the effect you want.
4) Chandeliers
You can turn ordinary ceilings into brilliant ballrooms with fun chandeliers. Hang them over the entrance, dance floor, refreshment tables or anywhere you want to add a touch of elegance.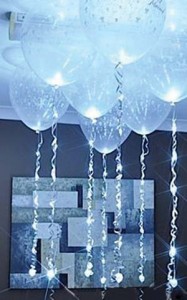 5) Balloons
Fill balloons with helium, tie with a string and let them float to the ceiling as instant décor. For a fun twist, use balloons with lights inside or with lighted ribbons.
6) Floral Sheeting
Who says floral sheeting is just for parade floats? You can spread it out anywhere, including on ceilings, to create a fun scene. Its textured look is perfect for any theme.
7) Garlands
For a fun twist, try using garland in place of fabric to create stunning ceiling effects.
8) Holographic Stars
Need a starry night? Cover the entire ceiling with holographic, metallic or cracked ice stars for an out-of-this world look.
9) Metallic Curtains
When you hang them from the ceiling, metallic curtains are a great way to bring tons of sparkle to your space. Use a few to highlight certain areas or hang them all over to create an extravaganza of shimmer and shine.
10) Murals or Patterned Background Paper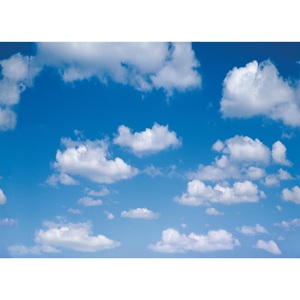 Murals are usually used as wall décor, but you can also use them to cover ceilings. Choose a mural that matches your theme for a quick and easy way to bring your theme to life.
When it comes to decorating your ceilings, think outside the box. You can create spectacular effects quickly, easily and affordably.
Have some great ceiling decorating ideas? Share with us.