It's that time of year again – time to start thinking about Prom 2015. One of the first steps in Prom planning is choosing a theme, a task that can sometimes feel a bit overwhelming. No worries. We are here to help. While we can't choose your Prom theme for you, we can make it easier for you to decide on the perfect theme for your school. Here is a list of the most popular Prom themes for 2015 to help get you started.
Paris Prom themes have always been popular, but this year, teens are saying goodbye to the traditional Eiffel Tower and Arc de Triomphe and hello to the more modern side of Paris. When it comes to themes set in the City of Lights, the sky is the limit. If you want to include elements of classic Paris, like the Eiffel Tower, definitely do so. It's a great way to set the scene. Then, consider adding a few fun, non-traditional twists to bring your Paris theme to life.
Add a windmill and Can Can dancers to create an action-packed Moulin Rouge theme
Use a moon, clouds, and tons of sparkle to design a Paris dreamscape theme
Bring in fun buildings and cobblestones for a charming Paris street scene
2) 1920's Prom Themes
The Roaring '20s are back in a BIG way! Teens love to go back in time and experience the music, fashion, and fun of this exciting era. It's easy to mix and match theme kits and add different pieces to create a unique, but still authentic, 1920's look. From Gatsby glam to classic ballroom there are so many possibilities for a Roaring '20s theme. No matter what tone you choose, there are a few elements every '20's theme should have:
1920's selfie station: Stock this photo op area with fun props, like feather boas, top hats and canes, neon fedoras, feather tiaras and more.
A live band. When it comes to 1920's music, there is nothing like a live band to add that extra special touch.
Black and gold. Encourage Prom guests to dress in these classic 1920's colors for a fun and coordinated look.
3) Under the Sea Prom Themes

Under the Sea Prom themes have been around a long time, but they have evolved from crepe paper waves and cut out fish to awesome theme structures and super special effects. The great thing about Under the Sea themes is their versatility. You can take almost any theme and turn it into an undersea adventure by adding a few simple elements. Want an undersea theme for teens of today? Try some of these fun ideas:
Add building ruins and statues to recreate the Lost City of Atlantis.
Design a pirate theme, complete with a sunken ship and treasure maps.
Go steampunk with modern machines and lots of iron work.
Use special effects lighting to create the look of waves and bubbles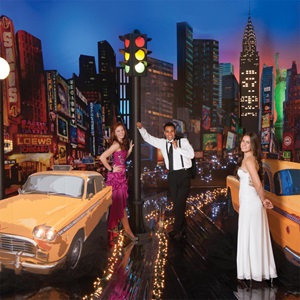 4) New York City Themes
One of the world's most popular tourist destinations is also one of the most popular Prom theme settings. You can do so much with a theme set in the New York City. Choose a complete theme or mix and match theme kits to create your perfect Big Apple adventure:
Design an energetic and vibrant theme that showcases the heart of Broadway.
Add benches, flowers, and trees to create an idyllic Central Park garden scene.
Make it romantic with a lighted NYC Skyline setting
5) Casino Themes
A casino theme is all about FUN! Whether you choose a specific setting, like Vegas or Atlantic City, or just design a generic casino theme, you can rest assured that your teens will never be bored. Hand out fake poker chips and play money at the entrance, and let Prom guests play their way through the night. Consider these ideas to add even more fun to your casino theme:
Set up a silent auction where teens can bid on items they want with the play money they win.
Have a mix of standard casino games and trendy teen-friendly games like Xbox and Play Station.
Include a lounge area where teens can go to rest and hang out with friends after hours of action-packed fun.
Whether you choose a complete theme or mix and match elements to create your own unique look, these popular Prom theme ideas are can help you create a fun and memorable Prom night for your teens.
What is your favorite Prom theme for 2015? Share with us now.