One of the biggest challenges high schools face is ensuring high attendance numbers at Prom. With all the expense, time, and effort that goes into planning the biggest event of the year, it's important that schools not only sell enough tickets but also encourage teens to stay at Prom for the duration, rather than leaving after the obligatory initial appearance. How do you do that? Simple. Make it so fun that they simply don't want to leave. Here are a few easy ways to up the fun factor and increase attendance at Prom.
Selfie Station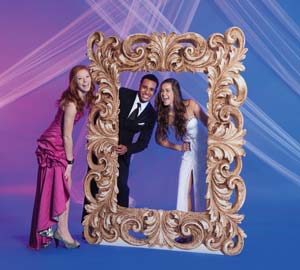 Photos are a big part of Prom; they are the easiest way to capture memories of the night. While most schools still take formal Prom photos of each couple, it's becoming more and more popular to provide a selfie station where teens can have hours of fun taking photos of themselves and each other. Set up colorful backdrops, and include interactive props, costume accessories, or even a photo booth, and encourage teens to take and share fun photos all night long.
Silent Auction With Play Money
A fun way to keep teens engaged all night long is to have a silent auction. Hand out play money at the door and set up a silent auction where Prom guests can bid on various items. This works especially well with a Casino theme where teens can earn more "money" to bid on the items they want. Close the bidding at the end of the night, and make a rule that teens have to be there to collect the items they won in person.
Door Prizes All Night Long – BIG prize at end of night
The word FREE is a huge incentive for anyone – especially teens. To ensure that Prom guests stay until the end, consider handing out prizes all evening long. Include fun things that teens want, like movie tickets, gift cards, etc., and save a big prize, like a computer or iPad (don't forget to include a charger), until the end of the night and make it clear that teens have to be present to win.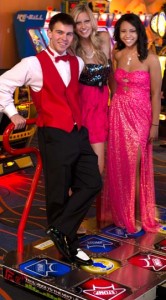 Games, Games, Games
Teens who get bored at Prom are more likely to leave. Make sure that boredom does not take over by including super fun things that will make teens want to hang in for the duration. Set up a game area where teens can go to work off steam and stay active throughout the night. Include a variety of options, from board games to card games to video games, and offer teens the opportunity to challenge each other in tournaments throughout the night.
Movie Corner
It's a known fact – teens love movies! To get Prom guests to stick around until the end of the night, designate an area at your Prom venue to show a movie or two. Either choose some popular new releases or classic films with a Prom theme. Deck out the area with bean bag chairs and sofas, so teens feel extra-comfortable. Also, set up a traditional movie theater popcorn machine and offer beverages for an authentic movie theater feel. Don't forget to check on the required licenses needed to show movies at your school.
When you offer teens more than just music and dancing at Prom, you'll find that attendance will increase, and your school might just gain the reputation of having the best Prom ever.
What fun activities will you be including at Prom this year? Share with us now.