Choosing a Prom theme is one of the best parts of prom planning because there are so many exciting options. But it can also be a little overwhelming; it is a big decision. As a member of your Prom committee, you are responsible for choosing and the perfect Prom theme to ensure that everyone has an amazing time on Prom night. Relax. We can help you. Here is our top 10 list of the most popular Prom themes for 2016.

1. Shabby Chic Themes.
Shabby chic Prom themes are one of the hottest Prom trends around. What is shabby chic? Think vintage, old-fashioned, antique-y, outdoorsy, slightly western decor! Items like lace, burlap, rustic-looking wood, chalkboard, and items with a "crafty" touch to them are all great decorating ideas for a shabby chic prom night.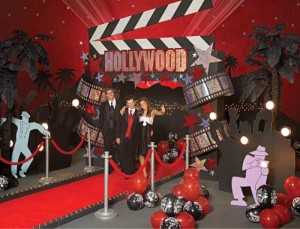 2. Hollywood Themes.
Hollywood themes have been a popular Prom theme choice for years, and it's still popular. Give your students the glamorous Hollywood Prom they want and dream about with a Hollywood prom. Vintage Prom looks are very hot right now, so make sure you order gold decorations, chandeliers, and black and white décor to go with your red carpet.

3. 1920s Themes.

1920s and Gatsby Prom themes have surged in popularity in recent years, due to the 2013 movie. It's an exciting era that lets students travel back in time to enjoy a different kind of music, fashion, and fun. Whether you choose a Gatsby theme or '20s ballroom theme, mix and match theme kits full of art deco patterns.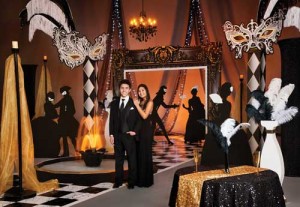 4. Masquerade Themes.
Whether it's a festive Mardi Gras scene or an opulent Phantom of the Opera-style masquerade, this kind of Prom theme is a huge hit with students these days. From bright New Orleans colors and masks, or darker, mysterious red and black décor, a masquerade theme offers lots imaginative decorating opportunities.

5. Vintage Carnival or Circus Themes.
A vintage carnival theme is a fun, new twist on the traditional circus Prom themes. From the vintage carnival colors of red, cream, and blue to the old-fashioned popcorn carts to midway games, you can give your students an incredible sensory carnival or circus experience for Prom night.

6. Vintage Glam.
Vintage decorations are super hot right now. And students love the glamorous, dress-up aspect of Prom. Combine these two styles for a vintage glam Prom night. Mix and match theme kits and different pieces to create a non-specific vintage look that's also glamorous. Think diamonds, basic but elegant black décor, and gothic pieces.

7. Arabian Themes.
With its mysterious allure, Arabian Prom themes have become very trendy. An Arabian theme is a fun alternative to traditional "destination" Prom themes like Paris or Italy. It's a unique and memorable choice with its jewel tones, palm trees, camels, and genie lamps.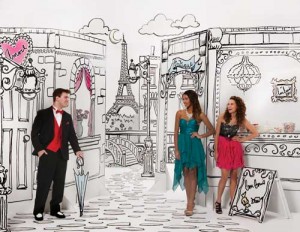 8. Paris Themes.
There isn't a more romantic place to set Prom night than in Paris. A Prom theme that is set in Paris has been a favorite locale for years, but you can put a new spin on it with Moulin Rouge decorations, quaint black and white sketchy décor, or vintage Parisian decorations.

9. Casino Themes.
Casino themes are very popular with students because they offer lots of Prom night fun and entertainment other than dancing. From Vegas to Reno to Atlantic City, a casino Prom theme should have lots of lights, dice, cards, money signs, and other high roller and jackpot decorations.
10. Underwater Themes.
Under the sea Prom themes are becoming popular again. And they can be a lot of fun on Prom night. You can choose dark blue hues for a more mysterious underwater theme, create a multi-color underwater paradise, or even a formal under the sea ball with fun lighting effects. Get creative with this fun Prom idea.
---
Choose a complete theme, or mix and match elements from several themes to create your own unique look for Prom night that your students will remember and cherish forever.
What is your favorite Prom theme for 2016? Share with us now.