The word Prom has a lot of power. It can instantly transport someone to a Prom from their past or the dream Prom of their future. We at PromNite.com can't predict the future, but we are very excited for the new themes we are offering in the present: 2017. We've put together a quick list of our favorite new complete Prom themes, as well as some tried and true favorites from the past. If you are in the process of choosing your Prom theme, use this quick list to make your final decision.
NEW THEMES
Garden of Glamour is a garden Prom theme of epically elegant proportions. It has all the class of a sophisticated ballroom theme with the quaintness of a secret garden theme. Your students will feel ultra-glamorous with this theme.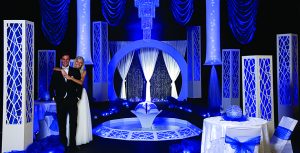 Crystal Blue Persuasion uses one of the hottest Prom product trends, crystals, but with a brilliant blue twist. Featuring a working fountain, light-up columns, and rotating chandelier, it's a really dynamic theme. TIP: Combine elements of our new blue Paris Magnifique theme with it to give it a French flair.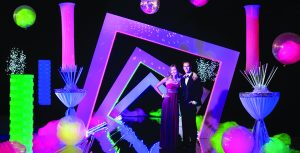 Light Up the Night! is such a magical, vivid prom theme, it's hard to capture how great it is in a photo. This theme includes tape lights with multi-color changing LEDs on all three arches, so it looks like each arch is changing color. Between those, neon fabric, and a mirror ball, this theme is breathtaking.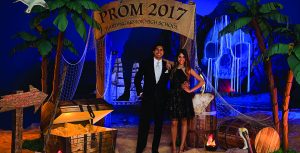 Pirate's Island brings a sense of adventure to Prom, complete with a skull waterfall! The requisite pirate ship and treasure chest are included, but the best part of this theme is the personalized sign of the arch. Just add your school name or message to personalize it for your Prom.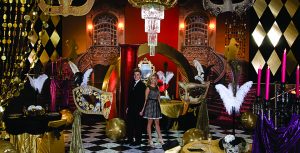 Masquerade Carnevale is a magnificent new masquerade Prom theme that draws inspiration from a Venetian masquerade ball. There's a mask everywhere you turn, harlequin banners, and opulent gold and crystal chandelier to complete the carnival atmosphere.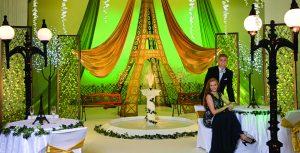 Springtime in Paris gives your Prom party space the quaintness of a Parisian park and dramatic elegance at the same time. Green wisteria and ivy is almost literally dripping all over this theme, from the fences and lattices to the fountain. And hanging drapes and more greenery will fill your ceiling space.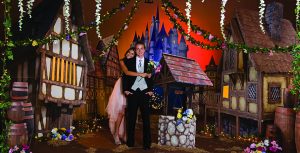 A Provincial Fairy Tale is a clever, and charming, set up for a "tale as old as time" fairy tale Prom night. This complete Prom theme gives you the village buildings and cottages, as well as the fairy tale castle in the distance. All you need is a some enchanted props, and maybe a Gothic or 'beastly' touch or two.
TRIED & TRUE FAVORITE THEMES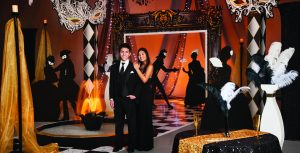 Masquerade prom themes, like our Vintage Masquerade, are still very trendy. Whether it's the magical allure or the opulence of it, a masquerade prom night is very versatile. You can put a lot of different spins on it: vintage, Mardi Gras, neon, etc.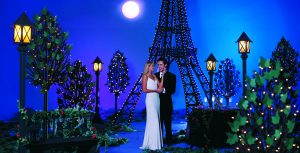 A Paris prom theme will never go out of style, and, once again, it's a versatile theme. Our One Night in Paris theme is set in a nighttime park, but you can also do a Moulin Rouge theme, or go big and grand like our Paris: City of Lights.
Arabian prom themes have been popular ever since a certain animated movie premiered in 1992. Use our Enchanted Kingdom theme to transform your prom space into a Arabian paradise, complete with golden turrets.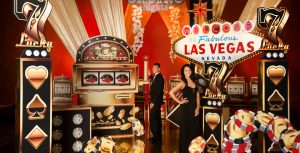 Vegas prom themes are great if you want a perennial favorite Prom theme that lets students really interact and have tons of fun. Our Let the Good Times Roll theme is a great starting point for your decorations. Just add some gaming stations, fake money, and the fun will add up.
Our Greek Prom theme Corinthian Courtyard is not only classic in style, it's still a trendy choice for prom night. A Greek theme brings history, mythology, and magic to your prom venue.
Hollywood prom themes have been done many times, but they're still hot. There's something about the mystique of celebrity and dressing to the nines that students love. Use our Hollywood Premiere theme to decorate your prom space.
Afterglow is our own unique theme creation that has been popular for over a decade. We can only speculate, but it's probably popular because it's so versatile. Afterglow has decorating kits that lend themselves well to a glow theme, underwater theme, ballroom theme, nighttime theme, and more.
For more Prom planning ideas, check out our Blog page!