It's almost Prom time! Your students are probably getting more excited by the day for Prom 2017, as banners and signs announcing your Prom theme and date start popping up all over school  While your students are reading up on gown, corsage, and hairstyle trends, there are other trends to consider as well, like decorating trends. Make sure your school has the latest and greatest décor to give your students the Prom night of their dreams.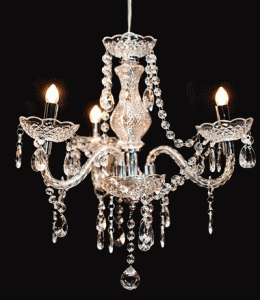 Reusable Chandeliers
Not only are Chandeliers a stunning focal point for any Prom theme, they are also very trendy right now. We offer a variety of chandeliers, from fringe to crystals, and most of them are reusable. Once Prom is over, store your chandeliers in a safe place, and reuse them for award banquets, graduation, or Homecoming. Our favorite new chandeliers are a Three-Arm Chandelier and the Six Tier Chandelier (it's over 6′ long!).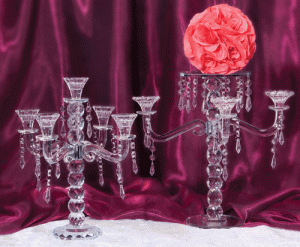 Crystals
One of the biggest trends right now, crystals are an amazing way to give your Prom decorations, especially dinner tables, an ultra-sophisticated look at a fraction of the price of real diamonds. Our Crystal Centerpieces are easy ways to get that fancy look, and they are 100% reusable. Just add new LED tea lights or other adornments to change up their look for your next school event.
---
Reusable Wisteria and Ivy
Hanging decorations are not limited to draped fabrics, lights, or even chandeliers. Bring your greenery up to the ceiling to create an even more lush garden, enchanted forest, or park prom theme. Check out our Springtime in Paris or Garden of Glamour theme for examples.
---
Reusable Backdrops
Set up backdrops for decorations and photo ops to make your Prom decorating even easier! We have many time-saving ideas you can use on decorating day. Our Crystal Cascades Curtain and Wall Kit makes use of a pipe and drape frame that results in a very fancy backdrop. Fabric Covered Arches and Columns are other easy-to-assemble structures that coordinate with lots of different prom themes and colors. Wire Structures are also popular, reusable decorations and are available in many different styles. All of these products are easy to disassemble, store, and reuse for other school events, like your Senior Party or award banquets.
---
Hot Colors
Gold. Jewel Tones. Neutrals. Shades of blues and greens. These are some of the hottest color trends for Prom 2017. These colors can be your guide to choosing a trendy prom theme (like Masquerade Carnevale, Crystal Blue Persuasion, or Light Up the Night!) or they can help you make decisions about fabrics and background paper for your decorating purposes (liquid metal fabric, wavy satin, or metallic luxe lamé).
---
Decorating with Fabrics
Prom decorating fabrics are not just for walls and ceilings. Use your fabrics to cover tables, wrap around columns, make chair sashes, or shred them to create unique floor décor and curtains. There are lots of possibilities; use your imagination! And don't limit yourself to one or two fabrics. Mix them up! We offer a decorating fabrics in a variety of textures (smooth, shimmer, wavy, petals) and tons of colors (gossamer, organza, tulle, and glitter tulle have the most options).
For more Prom decorating and planning ideas, check out our Blog page!