Hollywood. Tinseltown. La La Land. No matter what name you use, a Hollywood/Red Carpet Prom theme is always a big deal. This is one prom theme you can really go over the top with when it comes to decorating, but those decorations don't have to take big bite out of your Prom budget. We have taken some time to put together a list of ways you can save money on red carpet Prom ideas.
The #1 Hollywood Decoration
You absolutely, unequivocally, cannot have a Hollywood Prom theme without a red carpet so your students can make a grand entrance. You could use a velour runner, however, a more budget-friendly solution is red background paper. Cut the roll to the desired width and length to fill your space.
MORE Budget-Friendly Décor
You don't need fancy lights or marquee letters to spell out "Hollywood" for your Prom décor. All you need is nine styrofoam letters that spell out "Hollywood." For a few extra dollars, you can get some glitter or paint to decorate the letters.
Another decorating idea involves something every school has: the sidewalk. For this, all you need is some chalk and a few artistic students. Have them draw a bunch of large stars on the sidewalk to create your own Walk of Fame for prom night. (Make sure to check the weather report first, to ensure it won't rain on your artwork.)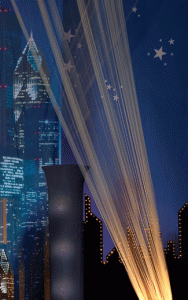 Spotlights are another must-have decoration for a Tinseltown Prom night. You could stretch your prom dollars a bit and get a fairly affordable working spotlight, but an illusion is also a great idea. Choose a decorating fabric with a bit of shine, like glitter gossamer or shiny tulle, and drape panels of fabric from the ceiling to create the shape of a spotlight against a Hollywood mural or other background.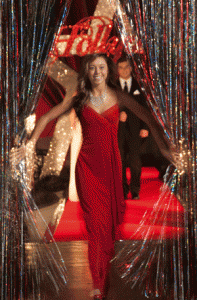 Other fairly affordable Hollywood decorating ideas include star cutouts, feather boas, top hats, curtains, and murals.
Ways to Fill You Prom Space
Use the typical Hollywood colors of silver, black, and gold to decorate your Prom ceiling space, even on a budget. Flower tissue balls come in all three of these colors, and are a very easy, inexpensive way to create unique hanging Prom decorations.
Basic balloons are a second easy way to fill your Prom venue. You can use solid-color balloons, printed Hollywood or star balloons, or star-shaped foil balloons (plus long curling ribbons) to create floating ceiling balloons to match your red carpet theme.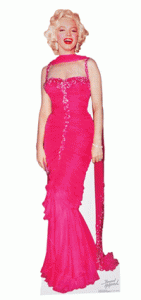 Palm Trees are synonymous with Hollywood and California. Whether it's a cardboard silhouette palm tree or a fancier three-dimensional palm tree, there are lots of decorating kits to consider, depending on your budget.
Hollywood Stand-ups (Marilyn Monroe, James Dean, Audrey Hepburn, etc.) can be used as decorations or as photo ops on your big night, and they are affordable.
Creative Decorating Ideas
Think outside the box for your table decorating, by using those retro-style red and white square popcorn boxes as vases. Use lots of boxes and lots of white and yellow artificial flowers to create the look of "popped popcorn."
Get creative with your custom napkins! Fold black napkins to resemble bow ties or white napkins to look like award envelopes.
Create formal-looking candy containers for your candy buffet with the help of some artistic students. Order lots of blank black megaphones, and have your artistic students draw a tuxedo on it, so it's suited up for your Hollywood Prom theme. On Prom night, students will have fun filling their tuxedo megaphones with candy and other treats!
There are many affordable Hollywood-themed decorations, favors, and invitations to choose from to coordinate with your Prom theme. Browse through our Clearance and Prom Collections to find more unique ideas! Don't forget to check out our Blog and Online Freebies page to find more information on Prom planning.