The Prom planning process is a very big undertaking, and can include many different subcommittees and a lot of attention to detail. When it comes to the purchasing of Prom supplies, whether it's for the pre-Prom stage (invitations, tickets, banners), the heat of the planning (finding custom favors, royalty, and  decorations), or an after-Prom party (decorations, lighting, etc.), you can count on Prom Nite to have what you need. So, what do YOU need for Prom?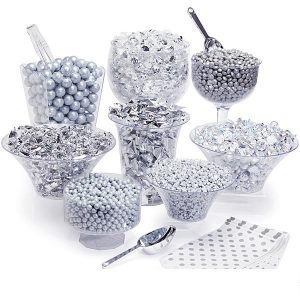 CANDY BUFFET ITEMS
If you need Prom supplies for a Candy Buffet, we have a lot of different options for you. In addition to color-coded Candy Buffet Kits, we have dozens of different candies to choose from, and lot of candy containers you can use to set up a mouth-watering display that students can graze on all night. Check out our Candy Coordinator downloadable PDF for tips on finding the perfect candy to fit your theme!
DECORATIONS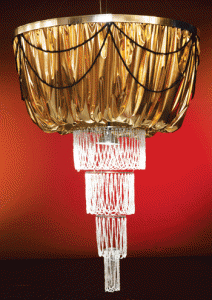 Prom decorations can range from the small-scale (cutouts, crepe, balloons) to large scale (murals, PVC rolls, background paper), and Prom Nite offers it all. And we don't stop at the walls and floor. We also offer many hanging decorations (chandeliers, lights, tissue balls) for your ceilings as well.
If you're looking for lighting and special effects for Prom supplies, we have a variety of options for you. From popular mini light strings to black lights, bubble machines, and fog machines, and many things in between.
Prom Nite also has an extensive selection of decorating fabrics for your prom supplies. No matter what texture, color, length, or style you're looking for, we've got it! From sparkling fabrics like glitter tulle and patterned die-cut fabric to luxurious-looking fabrics, like satin, liquid metal, and metallic luxe lamé, we have the perfect fabric to achieve any type of decorative display.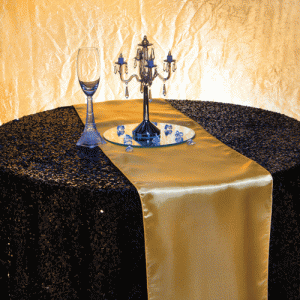 FAVORS
One of the biggest categories of Prom supplies you will need are favors for your students. Our Prom favor choices include everything from stock and pre-printed 2017 favors, to custom options. And we offers traditional, trendy, fun, and full-color favors to match any Prom theme and budget. The following are just some of our favor options:
Bags
Candles
Drinkware
Electronic Accessories
Glassware
Frames
Swag Bags
INVITATIONS
Shopping for Prom supplies starts with choosing the perfect invitation to match your Prom theme. And we have no shortage of invitation ideas for you. From our popular full-color invites to interactive invitations to traditional styles, there's an invitation to match almost any Prom theme and/or colors, and school traditions. We also offer many different tickets to coordinate with your invites.
PHOTO OPS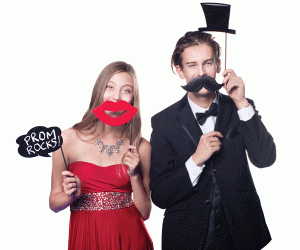 In the past five years, photo ops have become very popular Prom supplies for Proms and after-Prom parties. While you can use almost any type of decorative kit and wire structure for photo ops, we offer a lot of unique options as well. Fancy Gold and Silver Silhouettes, frames, stand-ups, and photo props are just some of our  unique photo op ideas for your Prom night.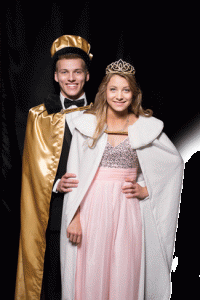 ROYALTY
In addition to the decorations, you also need to decide on accessories for the coronation part of your Prom night. We, literally, have hundreds of stunning tiaras to choose from for your Prom Queen and Princesses. And, there are other countless options of crowns, sashes, scepters, and robes to choose from for your entire Prom court.
TABLE DECORATIONS
Prom table decorations are a unique way to add some creativity or elegance to your Prom supplies and decorations. In addition to dozens of centerpieces, we have lots of crystals, vases, and feathers for your table displays. We also carry table covers, runners, and chair covers in many styles and colors to match any Prom theme.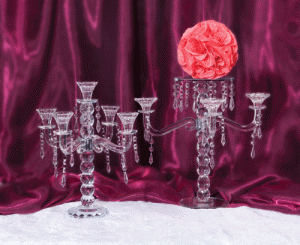 THEMES

From quaint (Can I Have This Dance?) to grand (Masquerade Carnevale), Prom Nite has hundreds of Prom themes to choose from for your decorating purposes. Because of our extensive selection of themes, you can travel to many places for Prom. Paris, Vegas, L.A., under the sea, Greece, and Arabia are just a few ideas! You will be sure to find the perfect decorations to match almost any Prom destinations.
As you can see, Prom Nite offers hundreds of Prom supplies and ideas for every stage of Prom. Browse through our Clearance and Prom Collections to find more unique ideas! Don't forget to check out our Online Freebies page to find more information on Prom planning.