When your students think of Prom night, they think about getting dressed up, asking a date, organizing a group of friends for the limo, and dancing all night long. Of course, there is much more to Prom than just dancing. From the Grand March to the After-Party, there are many other Prom ideas to implement during Prom night to make the evening as magical for your students as possible.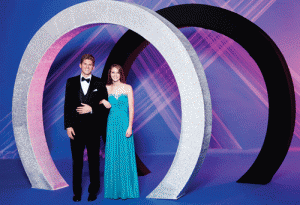 Prom Idea 1: The Grand March

A Grand March is a prime Prom idea. It's an opportunity for your students to make a grand entrance and show off their gorgeous gowns and tuxedos. Have one or two emcees announce names as each couple makes their entrance and strikes a pose for the audience (composed of parents, family, and community members). Some schools require a small fee to attend this opportunity to "ooh and aah" over the teenage fashionistas. It's a simple Prom idea, but it can be as quaint or elegant as you want to make it.
It's best to hold a Grand March in a space that is easy for parents and community members to get to, like your school auditorium or gymnasium. The quintessential decoration for a Grand March is an arch. Whether it has a classic or funky design, your arch and other decorations for a Grand March may fit any theme, however, most schools will decorate the venue to match their overall Prom theme. If you're having a Hollywood Prom theme, roll out a red carpet for the Grand March. Or use background paper and decorating fabrics in a variety of colors to match almost any prom theme. Once you have a pathway for students, line it with mini lights or other light-up decorations for a fun effect. Prom ideas like this are popular with schools of all sizes.
Prom Idea 2: Coronation
If your school crowns a Prom King, Queen, and Court, a coronation ceremony for Prom night is a must. You can have a lot of fun creating an extremely regal look for all of your Prom royalty. Start by choosing the perfect tiaras for your Prom Queen and princesses. Then, decide upon crowns for your Prom King and princes. Complete the regalia with coronation robes, scepters, sashes, and jewelry. Don't forget to match your royalty items to your Prom colors or your school colors. Making a big deal of your coronation is one Prom idea that is sure to be the highlight of the evening.

Prom Idea 3: Photo Ops
When they're not dancing, your students will be whipping out their phones and looking for the best Prom props and backgrounds for their photos. Be prepared for selfie-taking students by providing lots of photo ops. (This is one Prom idea that should be a staple of your Prom planning!) There are tons of options out there for photo ops, from traditional murals, balloons, columns, and arches, to reusable wire structures, light-up props, and benches. Photo ops can match your Prom theme (like a red carpet railing with a Hollywood theme), or simply have a classic look to them. Be sure to put as much thought into this Prom idea as your overall theme decorations.
Prom Idea 4: After-Party
An After-Prom party is a great way to keep that "Prom night fun" going. This Prom idea also gives parents peace of mind because they will know that their kids are in a safe environment at that late hour. As students leave Prom, affix a non-transferable wristband to every student wrist to ensure safety and security.
Location ideas for your After-Prom party include the school, a parents' large house, movie theater, bowling alley, and more. Wherever you have it, the space needs to be big enough to house all your prom guests and chaperones.
Planning an After-Prom party doesn't have to be extensive; think of it as a small-scale version of an all-night Senior Party, with games, prizes, snacks, treats, and other entertainment. And it doesn't need a lot of decorations. Check out these After-Prom ideas for your party:
Movie marathon
Bowling
Games
Casino games
Karaoke
Popcorn
Make-your-own sundaes
Gift cards from local businesses
You Prom can include one or all of the above Prom ideas and events to make Prom the best, most memorable night for you students. Check out our Online Freebies and other blog posts to find more terrific ideas for your Prom!