Want to create a picture perfect Prom evening for your students? Set up LOTS of photo ops for your students. From traditional and classic-looking props to more whimsical or theme-specific props, photo ops are an essential part of Prom, one that will make Prom even more memorable for every student in attendance.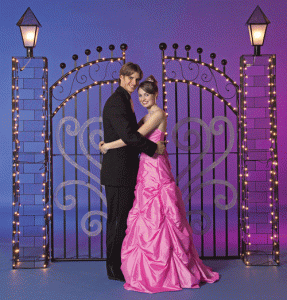 Formal Photo Ops
Your students will be very excited once Prom night arrives. With all the good food, dancing, and laughter, your students will need a chance to relax. Use this opportunity to provide them with a formal photo op area where they can pose for classic-looking photos that their parents will cherish. Use any of the following ideas to create an elegant space for student portraits:
• Arches
• Balustrades
• Benches
• Candelabras
• Columns
• Curtains
• Draped fabrics
• Lampposts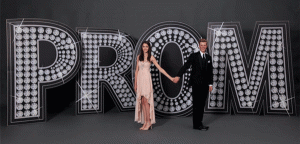 • Lattice panels
• Murals
• PROM letters

Informal Photo Ops
Ideas for informal prom photo ops are endless. If your budget allows for it, set up half a dozen photo ops for your students to interact with for their prom selfies. From DIY prom ideas to light-up structures there are a lot of photo op ideas out there. These photo ops can match your Prom theme, or be as whimsical as you want them to be. Once you've chosen your photo ops, provide your students with an assortment of props (umbrellas, boas, fedoras, sunglasses, etc.) that they can use while they are striking a pose. Here are just some ideas for you:
• Balloons

• Frames
• Light-up Arches
• Prom Signs
• Silhouettes
• Street lights
• Swing
Theme-specific Photo Ops
• Large masks for a masquerade theme
• Pumpkin Carriage for fairy tale theme
• Casino props for a Vegas theme
• Red Carpet for a Hollywood theme
• Clapboard Stand Ups for a Hollywood theme
• Celebrity Stand Ups for a Hollywood theme
Destination Prom Photo Ops
• Eiffel Tower for Paris theme
• Red Telephone Booth for London theme
• Big Ben Stand Ups for London theme
• Statue of Liberty Stand Up for New York City theme
• City Skyline or street lights for a big city theme
These are photo op ideas are just the tip of the iceberg. Get creative with your prom theme décor to create photo op areas that your students will have a ball with on Prom night. Browse promnite.com for more ideas. And don't forget to check out our FREE PDF downloads for help at every step of the prom planning processs.