What do you think of when you think of a parade? The music. The excitement. The freebies. And, of course, the floats; they're the best part of a Homecoming parade. If your school is planning a parade for Homecoming, we can help you pull off the best, most colorful parade floats that will be loved by students and community members of all ages. Check out these eight tips on how to set up your Homecoming parade floats.
1. Order Homecoming parade float supplies early.
A lot of schools in your state, and across the U.S., may be ordering parade decorations and supplies around the same time. Get a jump start on your competition, and determine what parade float décor and supplies (floral sheeting, fringe, styro letters, etc.) you need and order them as soon as you can.
2. Choose a lead team member to oversee the float building process.
Creating those festive floats will go more smoothly if you delegate one person to oversee the entire project. This person should know the overall look of the entire parade, have a vision of what individual floats should look like, and a have general knowledge of building. Of course, good management skills are also helpful for your Lead Builder.
3. Set aside after-school nights to prep Homecoming parade float(s).
How many Homecoming parade floats will you be creating? Your answer will determine how many nights will be needed to set up and decorate each of those floats, especially if one or more of them require a lot of decorations and materials. And don't forget to recruit enough people to build your floats. The whole process will go more quickly you have multiple nights and people working on your float(s).
4. Make sure you have enough building space.
Choose a decorating space that will be big enough to house your parade float(s). This space should also have doors wide enough to allow easy transport of the floats to the vehicles they will be attached to during the parade. We suggest a covered area, like a garage or other out-of-the-weather location for building.
5. Have access to YouTube.
How-to videos, like those on YouTube, will come in handy for any questions about the building process. Search "parade float building" or "parade float construction" at YouTube.com to answer any construction questions. Or watch these videos before you start building to get in that building mindset.
6. Review parade float construction directions prior to assembly.
No matter what float building materials you are using, make sure to read any instructions that are included before using them. Read instructions and/or watch the videos before you start building to familiarize yourself and your fellow builders with the process.
7. Make sure all needed decorating tools are present before the build.
Parade floats sometimes involve complicated structures, shapes, and unique materials. Take inventory before you start to build your floats. If the kits come with instructions, double check that you have everything, from the scissors, glue guns, and staplers, to large rolls of floral sheeting and PVC.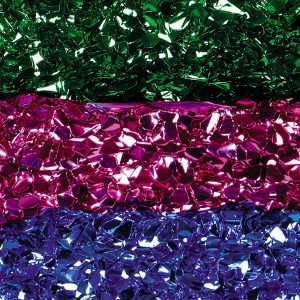 8. Have a vehicle lined up to pull each Homecoming parade float.
No matter how many floats you are creating, they won't run unless you have an appropriate vehicle. Ask for volunteers from your Homecoming Committee to drive the floats, and make sure they are careful drivers. Don't forget to decorate your vehicles to match the décor of the attached float and/or your high school colors.
If you follow the above 8 steps, you should be in good shape to have an amazing Homecoming parade! We recommend visiting valleydecorating.com for more detailed instructions on how to assemble your floats. Find more online resources Homecoming at our Online Resources page. Have a Happy Homecoming Week!