Wonder what the trendiest, hottest themes are for Prom 2018? Wonder no more. We've put together the top 7 Prom themes that are going to be very popular this season. If your school hasn't decided on a theme, one these seven themes will be a crowd-pleaser. And if you have chosen one of these themes, you better order now, so you have exactly what you need when you need it.
#1 Prom Theme: Poseidon's Paradise
Under the sea themes are a classic choice, and they are having a big resurgence right now, possibly due to the recent 20-year anniversary of a big movie blockbuster. This Poseidon's Paradise theme gives you a large shipwreck that sparkles, so it's also glamorous. A fancy and elegant underwater themes like this is sure to dazzle your students. NEW twist: Go nautical (and glam) with a Golden Ocean Cruise for prom night.    
#2 Prom Theme: Garden of Glamour
This Garden of Glamour theme combines glamorous and outdoor elements for a unique Prom experience. A lot of proms these days are all about glam, elegance, and opulence–anything over the top and dramatic. This theme gives you all of those qualities, and a little bit of shabby chic, too. NEW twist: An Enchanted Gardens theme gives you garden elements with a one-of-a-kind fairy tale elements, like hanging and moving umbrellas!
#3 Prom Theme: Hollywood Premiere
Hollywood, California themes have an undeniable glamour that never goes out of style, so this Hollywood Premiere theme with its simple sparkle fits right with the current trends. From the requisite red carpet to the glitter-filled arch, this theme has everything you need to have a terrific Tinseltown-themed Prom. It even offers a sign you can personalize for your school and your Prom night.
#4 Prom Theme: Diamonds are Forever
Prom themes based around diamonds another popular trend right now, and this Diamonds Are Forever theme fits right in with the trends. Every kit within this theme features printed "diamonds," making it a much more affordable way to decorate for Prom than the real deal. NEW twist: The Crystalline Ballroom is an amazing diamond theme if you're looking for something more extravagant.
#5 Prom Theme: Enchanted Kingdom
With their jewel-tones and special sparkle, Arabian Prom themes are exotic, Bohemian, and magical–making them a trendy choice for Prom 2018. This Enchanted Kingdom theme gives you all the basics of an Arabian theme (distinctive turrets, golden pathway) that you can accessorize as you see fit–depending on your own theme colors. NEW twist: Use the Castle Dazzle! theme for a modern, neon version of a fairy tale theme.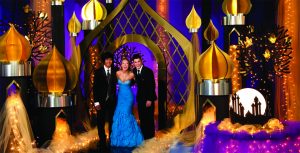 #6 Prom Theme: Forever in the Twilight
2018 color trends tend to have a fun and playful, yet complex quality. These traits can be found in this Forever in the Twilight theme. The one-of-a-kind theme gives you the best elements of both a garden theme and a nighttime theme. A grand, lit gazebo provides a stunning focal point for this theme.
#7 Prom Theme: Vintage Masquerade
Other qualities of the current color trends are drama and uniqueness. There's no better Prom theme to follow this trend than a Vintage Masquerade theme. This complete theme gives you lots of black, white, and gold decor, leaving you plenty of options to "colorize" or embellish the theme as needed.
Whether you want to follow the Prom theme trends shown above, or want to buck the trends for something more unconventional, Prom Nite has many more Prom themes to choose from for Prom 2018. Shop now!