"Mary, Mary, quite contrary,

How does your garden grow?

With silver bells, and cockle shells,

And pretty maids all in a row."1
The garden in the familiar above nursery rhyme must be very beautiful with all kinds of different flowers and colors. You can create a garden Prom theme that is equally beautiful, and will make a big impression on your students. Garden themes are trending big these days, so use some or all of the tips below to set up a garden Prom that will blossom in a stunning way for your Prom night.
Tip #1: Purchase A Complete Prom Theme
Complete Prom themes include almost all of the décor shown to create an amazing garden on a large scale. There are a variety of garden themes to choose from for your Prom night. Choose a garden theme that fits the vision you have for Prom, and one that matches your Prom budget. And don't forget, you can mix and match elements from theme to theme to create your own, richly colored garden Prom.
Can I Have This Dance?: Features lots of greenery and swing for photo ops.
Enchanted Gardens: Puts a fairy tale twist on a traditional garden theme.
Garden of Glamour: This theme is full of crystals for an opulent garden.
Garden Paradise: A great theme if you're looking for a romantic garden.
Tip #2: Purchase Garden Kits or Decorations Separately
If a complete theme is not quite what you are looking for, don't forget that all of the kits included in a complete theme are available separately. If you love the looks of certain trees or a specific fountain, purchase those items individually.
Hidden Garden Wire Arch: Creates lots of lush greenery for your Prom garden.
Grandiose Garden Tunnel: It's a great way to make an entrance for Prom.
Hold On to Me Gazebo: Provides a romantic backdrop for photo ops.
Rose Garden Columns: Gives your garden theme classic floral colors.
There are many other decorations that are appropriate for your garden-themed Prom. Browse through Decorating Materials and Decorator Kits to find exactly what you need to grow your garden. Some standout ideas are:
Balustrades: Set them up to create garden "balconies" or "verandas."
Floor Stands: Top them off with floral pomanders for a garden accent.
Gates: A must-have decoration for a Prom garden entrance.
Planters/Urns: Decorate the outside & insert lots of greenery and/or faux flowers.
Wire Lampposts: They are an easy way to light up your Prom garden.
Light-up Trees: These will add a fairy-tale quality to your garden.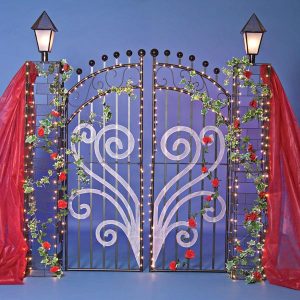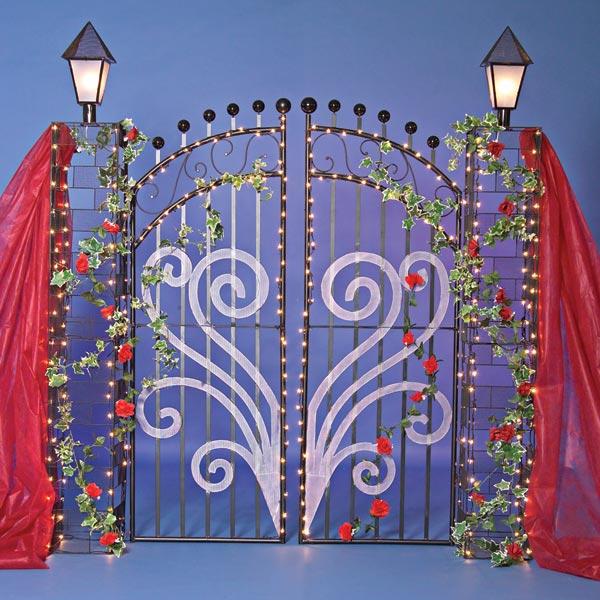 Tip #3: Order Invitations with Floral Accents
The perfect Prom invitation is one that sets the mood for Prom right away; it lets everyone know your theme, and lets students know what to expect. There are many invitations with a garden style, so choose the one that coordinates with your Prom garden theme:
Enchanting Garden: A great match for a mysterious fairy tale garden.
Garden Party: Perfect for a classic outdoor garden Prom theme.
Gold Leaves: This invite is a perfect match for a glamorous garden.
Lanterns in the Garden: An ideal invite for a quaint, romantic garden Prom.
Tip #4: Select Favors with A Floral Flair
Once you've got your decorations and invites, it's time to select your Prom favors. For a garden Prom theme, floral-patterned favors are a must, but there are a lot of other unique options. These are just a few trendy ideas:
Butterfly Swirls Leo Tumbler: Fancy butterflies and golden accents give it an elegant style.
Garden Lights Economy Frame: The fireflies and mason jars make it stand out.
Green Gumballs: A yummy idea for a green-filled garden theme.
Red Milk Chocolate Roses: The best sweet treat for a classy Prom garden.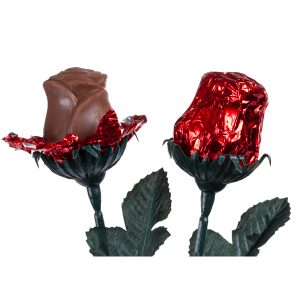 No matter what kits, decorations, favors, or treats you choose from the above list, you're sure to grow your own spectacular Prom garden. Need more garden Prom theme ideas? Click here for more suggestions.
1 Opie, Peter; Opie, Iona Archibald (1997) [1952]. The Oxford Dictionary of Nursery Rhymes. Oxford: Oxford University Press. p. 301. ISBN 0-19-860088-7. OCLC 229161681