Diamond Prom themes are very trendy right now; perhaps they are so popular because it's easy to find supplies for this Prom theme. There are, literally, dozens of invitations, favors, and decorations with diamond designs. However, if your school is having a diamond Prom theme, but don't want diamond overload, there are many other options for your special night. Check out these "diamond" and "non-diamond" ideas.
DIAMOND INVITATIONS
Most Proms, start with the invitation and/or ticket. The perfect invite is one that instantly communicates your Prom theme, with either a design or text, and supplies all the necessary details of this special night. Select an invite that best represents the sparkle of your diamond Prom theme.
Diamond Idea:
Full-color Diamond Invites
Non-Diamond Idea:
Razzle Dazzle Invites
DIAMOND DECORATIONS
Finding diamonds, crystals, and gemstones for Prom decorations is, mostly likely, very easy. Diamonds are a quick way to add elegance and opulence to your Prom night. Whether you want literal diamond décor, or "non-diamond" decorations with that special sparkle or shine, these are just a few ideas for you.
Diamond Ideas:
Clear Crystal Chandelier Centerpiece
Crystal Beaded Curtain
Diamond Drop Chandelier
Starkle Fabric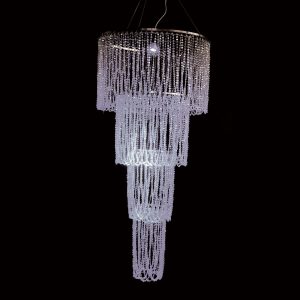 Non-Diamond Ideas:
Glimmer Mesh Fabric
Holographic Streamer
Metallic Curtains
Sequin Table Runner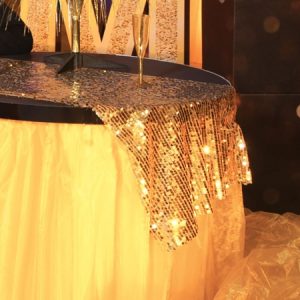 DIAMOND PROM THEMES
A complete Diamond Prom theme will help you obtain affordable decorations for your students, and fill up your party space. Choose a specific diamond theme, or a fancy "non-diamond" theme and simply accent it with diamonds, crystals, etc.
Diamond Idea:
Shine Like A Diamond

Non-Diamond Idea:
Sparkle!
DIAMOND PROM FAVORS
Your students should leave Prom with some extra bling. Whether you choose a stock or custom Prom favor as a keepsake, your students will cherish them for a long time. Depending on your budget, choose one or several Prom favors for your students, including one that's a "non-diamond" favor, but still has some sparkle.
Diamond Ideas:
Bling-Around Tumbler (have photo in WordPress)
Diamond Delights Favor Set
Prom Bling Favor Bag
Rhinestone-Around Circle Key Chain
Non-Diamond Ideas:
Diamond Cut Tumbler
Glitter Glam Scallop Frame
Silver Glitter-rama Flute
Silver Dazzle Swag Bag
DIAMOND PROM ROYALTY
When you think of royalty for Prom, most people think of tiaras—which are the epitome of sparkling "diamonds." If your budget is limited, you can still make your Prom King, Queen, and Court sparkle; simply use some of the "non-diamond" ideas listed below.
Diamond Ideas:
Full-color Crowns and Sashes
Grand Tiaras
Non-Diamond Ideas:
Full-color Sash with "glitter" graphic
Light-up Fedoras
Silver Crushed Satin Crowns
No matter how you decorate or prepare for your diamond Prom theme, mix and match the above "diamond" and "non-diamond" ideas to create a truly dazzling Prom night for your students.