Gossamer is one of the most popular decorating fabrics for Prom. This sheer, lightweight fabric makes a versatile material for any Prom theme. Not only is it available in dozens of colors and patterns, it's the perfect fabric to give you maximum style with minimum time and effort. Check out these fab ideas on how to use gossamer to enhance your Prom theme and decorations.
CREATE CEILING DECORATIONS
Decorating your ceiling is not only a popular trend; it's the perfect way to cover a lackluster ceiling. Whether it's your school gymnasium or an off-site venue, hanging gossamer up high can create many stunning effects. All you need is some gossamer in your choice of colors—to match your Prom theme—a ceiling ring, and a little imagination. You can hang it, drape it, bunch it, swoop it, or stretch it. By the time you're done you should have a fabulous-looking ceiling drapery or canopy.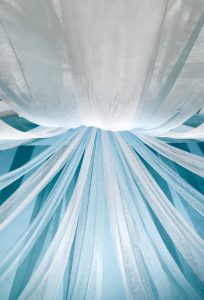 WRAP COLUMNS
Does your Prom venue or gymnasium have lots of columns? Wrap gossamer around them to add some pizzazz to your Prom theme. Once your colored gossamer is secure, add some mini lights, cutouts, or other accents to complete the look.
MAKE A PATHWAY
This is another popular way to use your gossamer Prom decorations, and it's super easy to create. Simply bunch your gossamer along the floor of your Prom space in the shape of a pathway. Once the gossamer is in place, add some mini lights to make it a lit pathway! Or sprinkle some confetti over it, or add some faux cobblestones to complete your Prom path.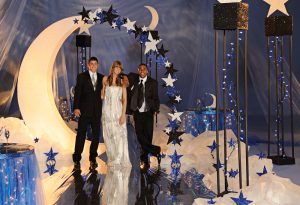 DRESS UP TABLES AND CHAIRS
Using gossamer for your tables instead of the typical table cover is a great way to add a little elegance to your Prom space. Glitter gossamer is perfect for Prom tables because it has an extra-bit of shine. You can even add mini lights underneath the gossamer to enhance the look. And for a coordinating look, use your gossamer fabric to create unique chair covers.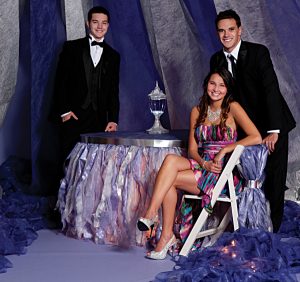 BACKDROP FOR PHOTO OPS
Create a fancy space for your Prom night photo ops by stretching glitter gossamer or patterned gossamer along a wall. If you have access to a pipe and drape, you can use the frame to create unique photo op draperies featuring two or three colors of gossamer. Simply add some icicle lights to jazz up your backdrops.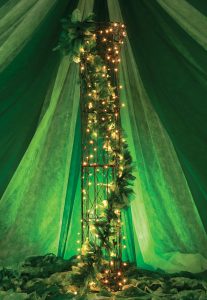 No matter which ideas you use for your Prom gossamer decorations, let your imagination run wild. There's wrong way to use it. Simply find the perfect gossamer colors and/or patterns to match your Prom theme and enjoy! Start shopping now. Click here for gossamer options.