When your students are preparing for their next school event, help them out a little. Make sure you stock your school store with essential items that will get a lot of use beyond that specific event, and will be used everyday. Customizing these everyday items with your school name and/or mascot is icing on the cake. As long as you provide them with the basics, your students will be more than ready for special school events AND everyday needs.
Everyday Essential: Flashlight
A flashlight is an important safety item for evening and late-night school events. Even a compact light is good for walking to cars after games or other nighttime uses.
Everyday Essentials: Phone and Wallet
Most students have a phone and it's probably close by, but if you provide them with a pocket phone wallet, they will really stay organized. They hold lots of things, from credit cards and ID to keys.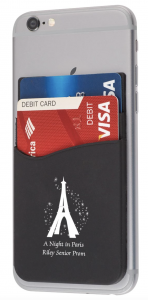 Everyday Essential: Water Bottle
A durable water bottle is always handy for school events and long family trips. It's important to stay hydrated and healthy, no matter what the occasion. Having their own water bottle will only encourage healthy habits.
Everyday Essential: Lanyard
Students will appreciate having a custom lanyard for their keys and ID badges. And it leaves their hands free to cheer on the team, take selfies, and more.
Everyday Essentials: Spare Charger & Earbuds
There's nothing more frustrating to a teenager than a phone or mobile device with a low charge when they really need it. Having an extra charger around will really come in handy. And earbuds will ensure that playing music and/or videos is nice and private.
Everyday Essentials: Extra Backpack and Sunglasses for Car
Most student drivers will appreciate having an extra bag or backpack to throw in miscellaneous items. And having an extra set of sunglasses around is a not only a healthy option because it protects their eyes, they're great for unexpected weather, too.
Everyday Essential: Small Notebook
Even in the digital age, it's always nice to have a small notepad around to jot things down.
Everyday Essential: Ca$h
It's always important to have some cash on you because there are some places that don't accept cards for transactions. Unexpected shopping or payment situations can occur that may require having tangible cash on you.
Make sure you stock your school store and concession stands with any or all of the above "everyday essentials." Not only will these items prove valuable to students on a daily basis, they will also come in handy when students are preparing for school events, from Homecoming to graduation!