It's that time of year again–when schools are gearing up for Homecoming, Spirit Week, and other back-to-school events. Make sure that your high school is fully prepared for all of these activities and events by organizing several fall fundraisers. We've got quite a few ideas to help you out!
FUNDRAISING IDEA #1
TICKET SALES are the number one way to raise funds for Homecoming. Standard ticket rolls are used a lot, but there are other ticket options for you that work well for Spirit Week. Full-color tickets, like our Paw Print Full-color Ticket, can be customized to match your school, colors, and Homecoming details. Don't forget to look for other Full-color Tickets that match your Homecoming theme. And Sizzle and Shine Tickets can be used for your Homecoming dance, especially if it has a "fancier" theme, like ballroom, Hollywood, or Paris.
FUNDRAISING IDEA #2
CONCESSION SALES are another popular fundraiser with high schools. Concession stands are open for every game day and other outdoor events, so you can really maximize your profit potential. Products sold in concession stands, obviously, vary from school to school, but no matter what you sell, either a percentage or all of the profits made from those sales can go toward your Homecoming activities. Use any or all of the following product ideas for your school's concession stand.
Edible confections (popcorn, sno cones, hot dogs, beverages, candy, etc.)
Fan gear (face paint, bandannas, beads, decals, etc.)
Novelties (necklaces, buttons, key chains, wallets)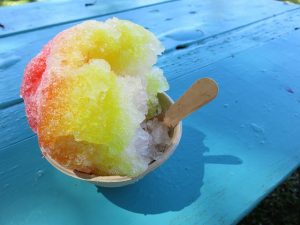 FUNDRAISING IDEA #3
SELL SPIRIT ITEMS for Spirit Week fundraisers. Whether you sell your spirit products in your school store, during lunch time, or after school, they are a surefire way to raise some extra funds for your Homecoming dance, pep rally, parade, and more. Some of the  spirit product ideas listed below may seem like "no-brainers," but, you may be surprised at the profit you can make from a popular spirit product, like tee shirts or tattoos.  
Beads–you can't wrong with these; school color beads can be reused for lots of school events

 

EyeBlacks — football themed EyeBlacks are perfect spirit items for Homecoming fundraisers
Shakers — students and fans can use them again and again for games, parades, and pep fests
T-shirts — customize T-shirts to match your school colors for Spirit Week
Temporary Tattoos–super popular idea, and they're available in LOTS of designs
Sweatshirts — customized apparel is always popular; and there are more apparel ideas online!
These ideas are just the tip of the iceberg. We've got all kinds of other ideas on promnite.com. Just click on the "Spirit" tab on our home page and browse. We also offer a resource page where you can download our Spirit Week Activity Checklist and Fundraising Guide. 
Have fun with all of your Homecoming fundraising planning.