Decorating for Winter Formal, Prom, and other school events is always exciting–and there's one way to make it even more fun for everyone. Simply add some gossamer before the doors open! Not sure exactly what to do with gossamer? We have lots of ideas on how to use gossamer the most effectively in any party space to make the decorations shine.
Gossamer Decorating Idea #1: Bunch It Up!
Whether you have constructed a large castle, columns, or cityscape, adding gossamer will give those decorative structures a fairy tale touch. Choose a color to match your Prom theme and then start bunching and twisting it into a floor "cloud." Simply place the resulting bunched up gossamer around your base of any decorations and enjoy. Green gossamer is great for simulating grass; blues and whites are great for underwater themes; mottled tan gossamer can even be used for a beach or desert theme. Be creative with it!
Gossamer Decorating Idea #2: Create A Pathway
This idea employs a similar technique as Idea #1. First, bunch up your gossamer. Then, instead of arranging it around the base of a structure, place it on the floor of your event space and create a wandering pathway. Start your path at the beginning of an archway; it's great for a Grand March! This can be done in any color gossamer, but using a metallic gossamer roll will really make the pathway stand out.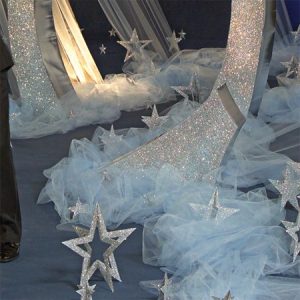 Gossamer Decorating Idea #3: Drape It from the Ceiling
Create a really dramatic effect for Prom night, especially for a fancy ballroom theme, by hanging drapes of gossamer from the ceiling. Secure as many or as few ceiling drapes as needed to accentuate your Prom theme. An easy way to accomplish this feat is by using Magnet Movers; it eliminates the need for ladders! Gossamer ceiling drapes can be accomplished using any color, but basic black, silver, or gold are ideal for an elegant effect.
Gossamer Decorating Idea #4: Light It Up
For this idea all that's needed is a roll of flame-retardant gossamer in a color that matches your Prom theme and several strings of mini lights. Simply cut pieces of gossamer (length can vary), place a mini light string on top of the gossamer, and roll and bunch the gossamer around it to create a lighted arrangement. This is a great way to create a lighted pathway for any Prom theme, whether it's an Arabian theme, fairy tale theme, or masquerade theme. Any color can be used, but yellow-gold gossamer will really glow bright with all those mini lights inside!
The most important thing to remember when using gossamer is to be creative. Twist pieces of it around columns, through banisters and balustrades, and so much more. Use your imagination to create a fun and festive atmosphere for Prom or Winter Formal!