There is no shortage of fabulous, elegant, and innovative ideas for fancy Prom tables these days. From the basics to extravagant accessories, there are lots of incredible ideas out there for Prom table decorations. Use our list of table decorating ideas to create Prom tables that look amazing and reflect your Prom theme.
Prom Table Decorations: The Basics
Begin decorating with basic table decor for Prom tables and displays, like the ones listed below. These will be the base of your Prom table displays, so make smart choices that reflect your Prom theme and/or colors. For instance, instead of typical table covers, choose a fun textured decorating fabric, like spangle fabric for a Hollywood theme, or glitter organza for a Vegas theme.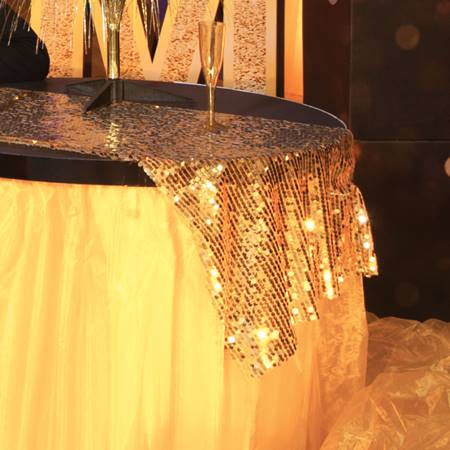 • Table covers
• Table runners
• Banquet rolls
• Table skirts
• Chair covers
Prom Table Decorations: Accessories
Once you have the Prom table decorating basics, the fun begins because you get to choose your table accessories. Many schools like to create fancy displays. While there are many decorating table accessories out there, your Prom tables can be as ornate as you want them to be. Add some of these fun accessories to your tables to create the perfect look.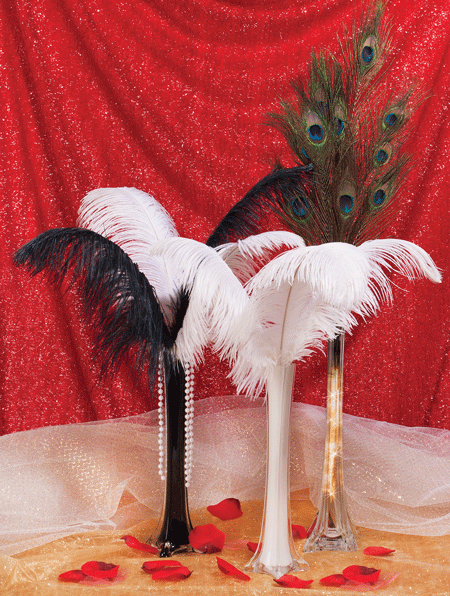 • Centerpiece lights for dramatic effect
• Vases
• Feathers
• Branches
• Floral or beaded garland
• Water beads or fake gems
• Flowers and plants
• LED candles
• Lanterns
Prom Table Decorations: Other Ideas
Basic table decorations and accessories will go a long way in creating table displays. However, there are other unique ideas to complete the elegant or trendy look. Check out some of these ideas.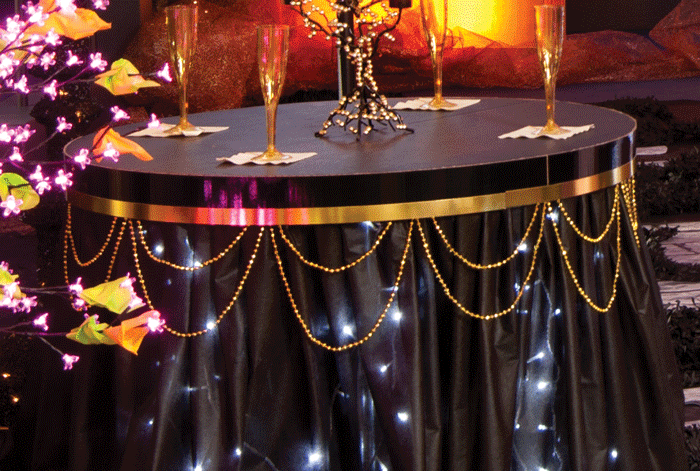 • String mini lights under a layer of fabric to create light-up table skirt
• Wrap sashes or table runners around chairs for dramatic flourish
• Add green garlands or red rose garlands to table edges to match a garden theme
• Wrap metallic curtains around tables (trim to size) to match a Hollywood theme
We hope your creative wheels are turning. With all of these Prom decorating ideas as inspiration, you're sure to find the perfect combination to create your own unique table displays.