Fabric is one of the most popular decorating fabrics for Prom. Not only is it available in dozens of textures, colors, and patterns, it's the perfect decoration to give you maximum style with minimum time and effort. Check out these 5 fab ideas on how to use fabric, like gossamer, tulle, metallic fabric, organza, and more, to enhance your Prom theme and decorations.
Fabric Decorating Idea #1: Decorate the Ceiling
Whether it's the ceiling in your school gymnasium or an off-site venue, hanging fabric up high can create a dramatic effect. All you need is fabric that matches your Prom theme colors, a ceiling ring, a Magnet Mover Kit (it eliminates the need for a ladder), and a little imagination.
• Swoop fabric for a fun canopy effect
• Hang fabric in panels to create cool backdrops for photos
• Use it to accent a chandelier
• Stretch it flat from one end of the ceiling to another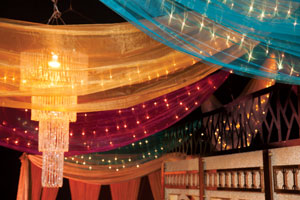 Fabric Decorating Idea #2: Bunch it Up
You can create so many fun looks for Prom simply by bunching fabric, and it's probably one of the easiest and most effective ways to decorate. Choose any sheer or semi-sheer fabric, like gossamer, and bunch it loosely or tightly to create the look you're going for.
• Place bunched fabric around the base of columns, planters, or other floor decorations
• Lay it on the ground to simulate green grass, a sandy beach, or desert dunes
• Bunch it and attach to a wall to create an underwater seascape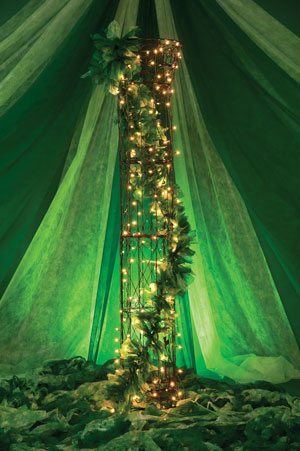 Fabric Decorating Idea #3: Create a Pathway
Designing a walkway is another popular way to use fabric as Prom decorations, and it's super easy to do. Simply bunch material along the floor in the shape of a pathway. Once the fabric is in place, add some accent decorations to complete your Prom path.
• Place mini lights under the fabric for added drama
• Use cobblestone cut outs or patterned background paper between the pathway sides
• Sprinkle confetti or glitter on top (or use a sparkly fabric) to add glitz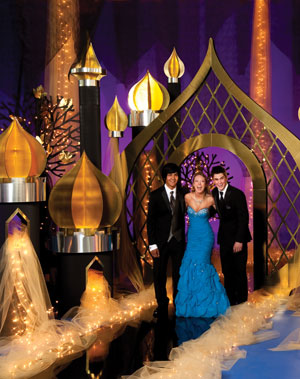 Fabric Decorating Idea #4: Dress up Tables and Chairs
Using fabric for your tables and chairs is a great way to add a little elegance to your Prom space. Lay a sheer fabric over the top of solid-color fabric or paper to create a unique table cover or runner or attach it to table edges as a fun table skirt (add mini lights for dramatic effect). Use long strips of fabric to create beautiful bows to tie around chairs to complete the look.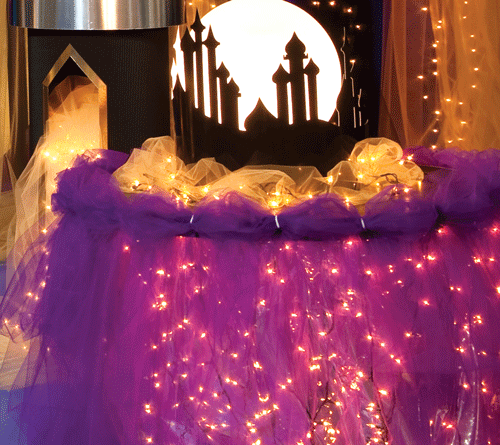 Fabric Decorating Idea #5: Create a Backdrop For Photos
Stretch fabric along a wall to create a fancy backdrop for your Prom night photo ops. Or, hang two or three decorating material colors from a backdrop frame to create unique photo op draperies. Add icicle lights, mini lights, or floral garland to jazz up your backdrops.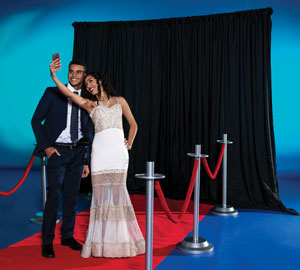 The most important thing to remember when decorating with fabric is to be creative. Twist it, bunch it, lay it on the floor, or hang it from a wall, ceiling, or frame. Use your imagination to create a fun and festive atmosphere for Prom!