Hollywood. Tinseltown. La La Land. No matter what name you use, a Hollywood/Red Carpet Prom theme is always a big deal. This is one prom theme you can really take in many different directions when it comes to decorating. Check out these ideas to give your Prom theme a super star look.
Set the Scene With a Complete Theme
You don't have to create the perfect Hollywood Prom theme from scratch. Grab one of our complete Hollywood themes to use as a starting point. Then, mix and match kits and add other decorations to give your Hollywood theme a fun twist.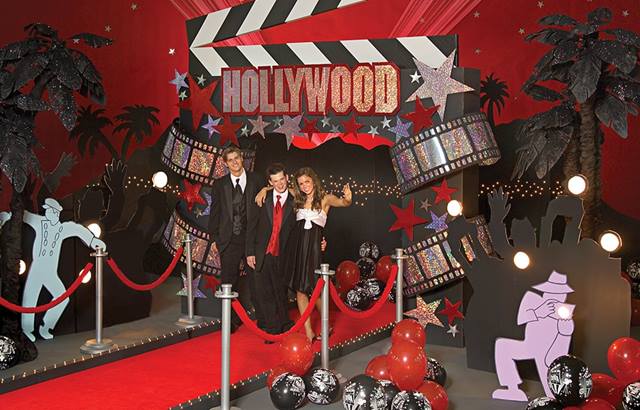 Roll Out the Red Carpet
You cannot have a Hollywood Prom theme without a red carpet so your students can make a grand entrance. You can use a velour aisle runner or go more budget-friendly with red background paper. Cut the roll to the desired width and length to fill your space. Accent your red carpet with red ropes and metal pole stands to create the perfect VIP walkway.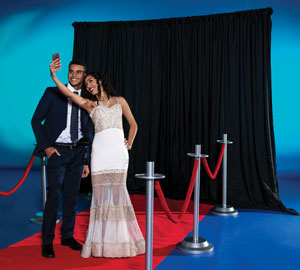 Make Your Own Hollywood Sign
You don't need fancy lights or marquee letters to spell out "Hollywood" for your Prom décor. All you need is nine styrofoam letters. Use glitter or paint to decorate the letters; then place them at the entrance to your Prom venue to welcome students, or use them as the backdrop for Prom photos.

Create a Walk of Fame
Make your students feel like Hollywood super stars by creating a Walk of Fame just for them. You can do this outside by asking a few artistic students to use chalk to draw stars on the sidewalk outside your Prom venue. Or, you can create your Walk of Fame inside using foil laminated stars. Write a Prom goer's name on each star and tape stars to the floor, attach them to a wall, or hang them from the ceiling.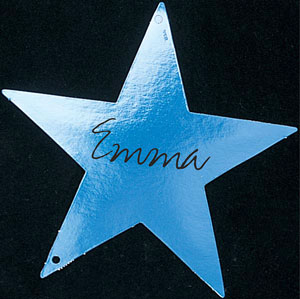 Put Students in the Spotlight
Your VIP students deserve their moments in the spotlight, so set up a spotlight photo op in your Prom space or for Grand March. You can purchase a real, working spotlight and have students pass through it as they make their entrance. Another option is to create the illusion of a spotlight by choosing a decorating fabric with a bit of shine, like glitter gossamer or glitter tulle, and draping panels of fabric from the ceiling to create the shape of a spotlight against a decorating paper background.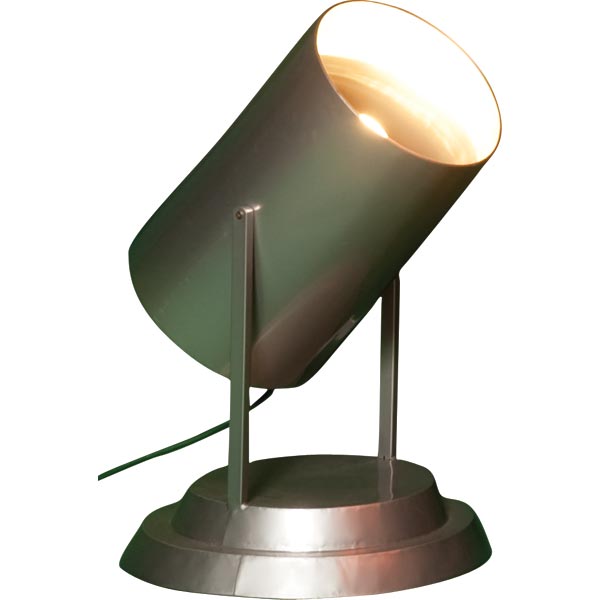 Glam Up Your Prom Space
• Use the typical Hollywood colors of silver, black, and gold to decorate your Prom ceiling. Flower pomanders and tissue balls come in all three of these colors, and are easy and inexpensive ways to create unique hanging Prom decorations; dress up tables with fancy fabrics, star centerpieces, and star-shaped confetti.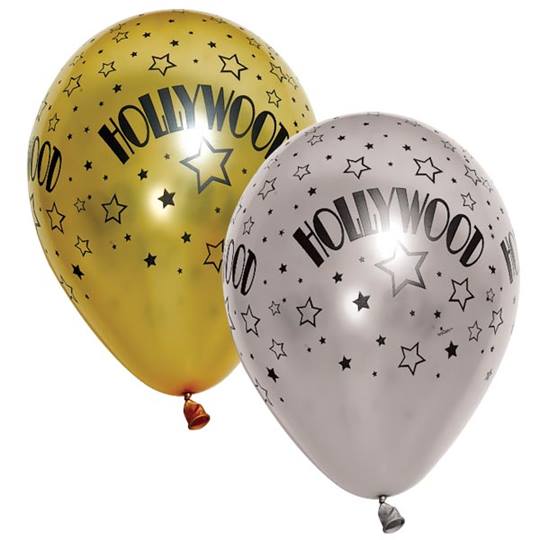 • Balloons are easy, effective, and budget-friendly ways to add Hollywood flair to your Prom space. Create bouquets of solid-color latex balloons, printed Hollywood balloons, and star-shaped foil balloons (plus long curling ribbons) and add balloon weights to create Hollywood-inspired table centerpieces or floor displays to match your red carpet theme.
• Palm Trees are synonymous with Hollywood and California. Accent your entrance, red carpet walkway, or dance floor with a palm tree decorator kit, and add fun palm tree centerpieces to tables to add a cool vibe to your theme.
Don't Forget the Swag
Your Hollywood party won't be complete without some swag for your a-list invitees. Grab one of our ready-made swag bags and hand it out at the door or put one at each place setting, or create your own swag bags by filling gift bags or backpacks with fun Hollywood-inspired favors, like sunglasses, Hollywood key chains, frame and tumbler sets, or glassware with fancy accents.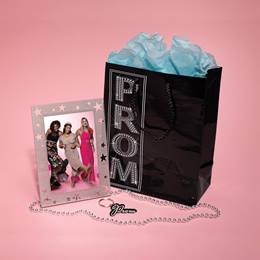 With a Hollywood Prom theme, almost anything goes. You can make it cool and exciting or elegant and sophisticated just by mixing and matching theme kits and décor to achieve the perfect look. Take some of these fun ideas and run with them. Make them your own and give your VIP Prom guests a night they will never forget.