Streamer curtains are the hottest new idea in decorating for Prom or special events. There are a variety of pre-made options to choose from, or you can DIY and make your own. They are easy and inexpensive to make and can add drama to entryway doors and photo backdrops.
How to Make Streamer Curtains
Start by choosing your material. Use 2-3 different colors, tones, or textures to create dramatic effect. You can choose pre-cut streamers or cut your own. You'll need:
• Pre-cut streamers or material to create your own
• Sturdy fishing line or kitchen twine
• Strong tape or tacks
Use Streamer Rolls
Using streamer rolls will make this project easy and fun, because all you have to do is cut to your desired length. Choose a variety of types and colors to up the WOW factor for your curtains. For one standard 8-foot wide curtain, you'll need about 400-500 feet of streamers. Here are some fun options to consider: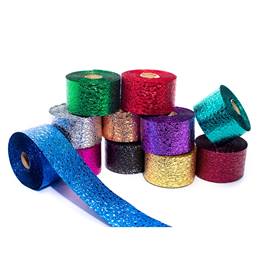 • Holographic streamers
• Metallic streamers
• Cracked ice streamers
• Iridescent streamers
• Crepe streamers
Cut Your Own Streamers
To create your own streamers, you can either use leftover decorating materials and fabrics, or you can purchase materials and designs that match your theme. Just cut the material into strips that are 1-2 inches wide x 8-feet long. Try some of these fun fabric and materials to create your streamers: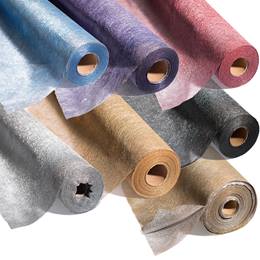 • Gossamer
Depending on the material you choose, you'll need about 50-60 streamers to create an 8-foot long curtain on a 10-foot wide line, which will be ideal for a photo backdrop or to hang in a doorway. If you prefer a wider curtain, just double the amount of streamers.
How to Assemble Streamer Curtains
With a piece of strong tape, attach twine or fishing line to a table or wall to stabilize the line while you work with it.
Tie one end of each streamer to the line, alternating colors or textures as you go. Leave about 1 foot of excess line at each end of the curtain.
How to Hang Streamer Curtains
On a wall: Tape or tack each end of the line to the wall, about 8 feet off the floor. Keep it loose to allow the center to drop down slightly.
In a doorway: Tape or tack the ends of the line to each side of the doorway, just above the opening.
Coordinate Your Curtains With Your Theme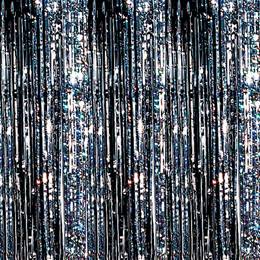 • Winter Wonderland/Snow Theme: Use colors of blue, silver, and white, and fabrics with hints of sparkle
• Hollywood Theme: Combine red, silver, and gold colors with shiny metallics
• Garden Theme: Use shades of green and mix and match textures to create the look of depth. Add floral garland across the top line or mix it in with the streamers.
• Starry Night Theme: It's all about the sparkle. Use blue or black glitter fabric and bright metallics
• Fairy Tale Theme: Use soft fabric, like gossamer, in shades of white and silver. Add mini lights across the top line or mix it in with the streamers.
Streamer curtains add dramatic effect for pictures or backdrops. They allow for student interaction while creating, and they are inexpensive to create! They are the perfect solution to take your event decor to the next level!